New Jazz vs rivals
Honda's new Jazz is part supermini and part MPV – and here it meets the best of both classes.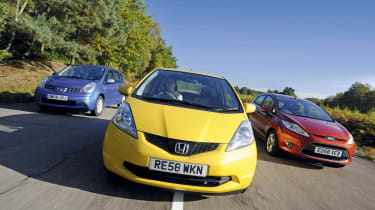 Defining a supermini-MPV is easy. It's a car that's the size of a supermini with a supersized cabin! The current leader in this niche class is Nissan's versatile Note – but what if a smaller rival came along that was just as practical? Enter the new Honda Jazz.
Aiming to build on the considerable strengths and successes of the outgoing car, the fresh Japanese five-door has a lot to live up to. The old Jazz won Auto Express's annual Driver Power customer satisfaction and reliability survey in 2004, and it's been voted the top supermini ever since.
Bosses have taken care not to mess with a winning formula, so the new model is bigger all-round, yet claims to retain its predecessor's quality and practicality. To see if Honda has been successful, we've brought the first UK version of the car to arrive in Britain together with a pair of very different competitors.
Only two weeks ago we were hailing the arrival of a new supermini king: Ford's latest Fiesta. In our Issue 1,035 road test special, both three and five-door versions triumphed over their strongest rivals. But already the Ford is under threat. We find out if the concept of a traditional supermini is old-hat by including a five-door Fiesta Zetec here.
To complete the trio is our favourite car in the supermini-MPV sector, the Note, which we test in top-value petrol-powered form. So, is the small car class about to be turned on its head all over again?
Verdict
When drawing conclusions here, you have to ask what matters most in a small car. It's a question Ford has answered in a very different way to both Honda and Nissan.
The Jazz values practicality above all else. As a result, it is the most versatile car money can buy. Improvements to the rear seat design weren't needed, while the new dash offers a more upmarket feel. The only drawbacks are that the styling hasn't moved with the times and the driving experience is bettered by one of the sharpest-handling new cars of the year.
In the end, the Fiesta earns victory with its unbeatable range of talents. True, in terms of cabin flexibility, the Ford is embarrassed by the Honda. But in every other way, the blue oval car is superior. Let's hope the company's next-generation Fusion builds on these qualities and uses the Jazz as a template for practicality.
That leaves the Note in third – no disgrace in this contest of incredible, space-efficient design. While the Nissan still has bags to offer the small family, it doesn't have the edge over the Honda's cabin and can't match the Ford for quality or dynamic excellence.