Rear of the Year?
We see how Renault's classy Laguna Coupé fares against VW's Passat CC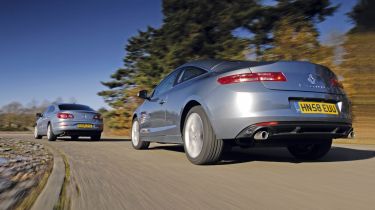 Taking a conventional approach is not the Renault way. The last time the French firm produced a coupé, the designers threw the rulebook out of the window. The Avantime was a bizarre two-door MPV-shaped sports model, and its wacky looks led to dismal sales and the quirky four-seater's swift demise.
Renault has just brought its new coupé to the UK, though, and as you can see, it takes a more traditional path to sporty success. Sleek, stylish and compact, the new Laguna Coupé has the looks to draw people into the showroom, but will it have buyers signing on the dotted line? We tested the punchy 177bhp diesel variant to find out.
Surprisingly, the more unconventional model in this duel comes from one of Renault's most conservative rivals. Volkswagen's Passat CC has tried to crack the family car coupé code with a different formula. Four doors and grown-up styling mark out the German model.
We've brought it together with its stylish Renault rival to see if the Laguna can start a French fashion revolution...
Verdict
At the top of any coupé buyer's wish list is style. Great looks are paramount, even at the expense of practicality or conventional wisdom. Pick the VW here, and you'll have to make fewer compromises. Its four-door layout and large boot give it saloon car versatility, while the cabin is beautifully built and comfortable.
Better still are the Passat's lower running costs compared to its French rival. But none of that makes it a winner here. The VW can't match the Renault for visual drama. The flowing lines and elegant proportions of the Laguna allow it to stand out as a true coupé, and make it as desirable on your driveway as it is from behind the wheel.
It also makes a strong case for itself on the move, thanks to a punchy diesel engine and composed four-wheel-steered chassis. So, by the narrowest of margins, the Renault wins.