Baby BattleGround
Alfa Romeo has finally returned to the small car market. But if its new MiTo is to succeed, it has to beat the MINI – and sparks are sure to fly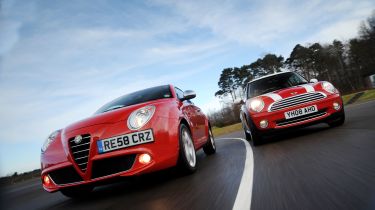 If timing is everything, the Alfa Romeo MiTo couldn't have been more punctual. The new small car joins a line-up dominated by sporty coupés and saloons just as cash-strapped buyers are looking to downsize to cut their bills. It mixes the style of a supercar with the fun and affordability of a supermini, while Alfa has even broken with recent tradition by giving it a name rather than a number. But does the MiTo add up?
To answer that question, there's only one car it needs to beat. The MINI has ruled the fashionable supermini roost since its launch in 2001, and the latest 118bhp Cooper is arguably the best of the lot. Retro styling, excellent resale values and low running costs make it a car you can buy with your head as well as your heart.
That's not something we're able to say about many Alfa Romeo models, but at £14,745 the top-of-the-range MiTo Veloce has the looks, price and performance to make MINI sweat. Its turbocharged 155bhp engine delivers more power than the British baby, too, plus the Italian model is considerably cheaper than the Chili pack Cooper.
So, is the new Alfa as good in the metal as it is on paper?
Click here to these rivals go head to head on the track in our exclusive Auto Express video.
Verdict
Tackling the MINI head-on is a tough job, but Alfa Romeo is one of the few manufacturers with enough style and desirability to succeed.
The MiTo has a broad line-up and competitive prices, and looks excellent value for money, with this flagship model better equipped, faster and cheaper than the MINI Cooper Chili. It also has entertaining handling to go with its head-turning looks and more practical cabin. But is this enough to give it the edge?
While the British supermini can't match the Alfa against the clock, its finely honed chassis delivers more thrills. Market-leading residuals and top-value servicing improve its prospects further – and if you get rid of our test car's Chili pack, it undercuts the MiTo on price. In the end, the MINI ownership experience is good enough to edge out the Alfa, although the impressive MiTo is a credible and distinctive alternative.