It's Hip To Be Square
Fiat's Qubo is the first van-style supermini-MPV, and promises excellent family practicality. We see if it shapes up to the clever Skoda Roomster...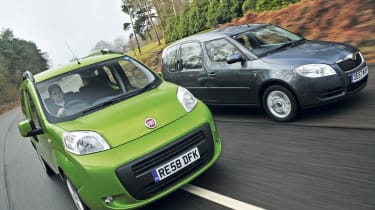 Moving from a hatchback to an MPV is a big leap for any young family to make. While many modern superminis are bigger than you expect, the temptation to match car choice with domestic situation is too much for many buyers to resist.
But if a fully fledged compact people carrier is out of reach, the supermini-based MPV is a fine entry point into family friendly transport – and the choice of models in this class is about to get even greater.
So far, these versatile vehicles have featured car-like bodies on supermini platforms. Yet Fiat has taken a fresh approach. It has pooled resources with Peugeot and Citroen to build a versatile little MPV in a van bodystyle – and the Fiat Qubo is the first result of this venture.
The concept of a people carrier with commercial underpinnings has already been successful in the class above – Citroen and Peugeot had sales hits with the van-based Berlingo Multispace and Partner Combi respectively. But will it work in a more compact shape? We put the Qubo against Skoda's Fabia-based Roomster to find out.
Our test brings together diesel versions of both, for the best value and lowest costs, and each targets young households. Which is the better family-shifting option?
Verdict
Proving versatility comes in all shapes and sizes, these supermini-based MPVs couldn't be more different. Both offer maximum space for minimum outlay – but the similarities end there.
The Qubo makes a great first impression. There's a real sense of fun to its styling and an honesty to its cabin. Even though its 1.3-litre diesel has smaller capacity, the Fiat is more than capable on most roads and adequate on motorways, while producing low emissions and frugal economy at a price families can afford.
So why has it ended up in second place here? Simply because the Skoda is much more practical – extra versatility in the load area, greater rear legroom and a higher-quality cabin help to justify its price. It's not perfect: in particular, the diesel engine lacks refinement. But when it comes to carrying families on a budget, the Roomster is tough to beat.