XFR vs M5 & XKR vs GranTurismo S
We find out if Jaguar can claim two class crowns as the storming new XFR and XKR take on the BMW M5 and Maserati GranTurismo S at Rockingham...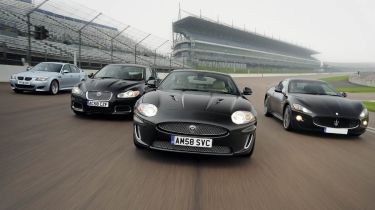 All good things come in pairs – just ask Jaguar! Not content with launching a hot new version of its XF saloon, the British brand has also revised its XKR flagship.
The newcomers share the same supercharged 5.0-litre V8 engine, which produces an incredible 503bhp. That puts them up against some stiff competition – and to mark the occasion we decided to bring them together with their closest rivals.
First up is our reigning Car of the Year, the XF – and the new R model has one rival in sight. The BMW M5 debuted in 2005, but its 5.0-litre V10 produces 500bhp, so it still represents a formidable challenge.
In our second pairing, the latest XKR Coupé tackles a new face from one of the world's most evocative brands. The GranTurismo S is the latest flagship version of Maserati's pretty coupé, and features a tuned V8 and a race-inspired automated manual box.
Both contests look evenly matched on paper – but how will the models compare on UK roads, as well as on the tarmac of the Rockingham Motor Speedway in Corby, Northants? There's only one way to find out…
Verdict
As it wouldn't be fair to pit Jaguar's XFR with the XKR Coupe, we've given our verdicts separately:
XFR vs M5
This heavyweight encounter was always going to cause sparks to fly – and so it proved. On paper, our two super-saloons are evenly matched, and that doesn't change once you get out on the road. The XFR is an accomplished all-rounder that serves up blistering pace, poised handling and exceptional long-distance refinement.
In contrast, the M5 is a more focused proposition. The glorious race-inspired engine, uncompromising transmission and hard-edged chassis make it a fully paid-up member of BMW's famous M family.
Despite that, the new Jaguar has it comprehensively beaten. Not only is it cheaper, but the XFR has a rare and broad blend of talents. Whether you want it to be a sports saloon or a luxury cruiser, it is a car that always manages to match your mood.
XKR vs GranTurismo S
Picking a winner between these coupés isn't easy. Both are hugely capable and rewarding to drive, but they have very different characters. Although the XKR is the fastest and most focused XK, it's effectively a grand tourer with an indecent turn of speed.
The Maserati feels like a genuine sports coupé. Its charismatic engine, unforgiving gearbox and head-turning looks make every drive a real occasion. It even has room for four adults. However, its racy transmission, firm ride and astronomical running costs will rule it out as an everyday car for many buyers.
In the end, it comes down to money. Providing you don't need a four-seater, the XKR is an excellent day-to-day choice. It doesn't have the charm of the GranTurismo S, but it devours long journeys, is cheaper to buy and has greater all-round talents.