Renault Grand Scenic vs rivals
Can Renault reclaim the MPV class crown with its new Grand Scenic? We find out as it meets key rivals from Mazda and Toyota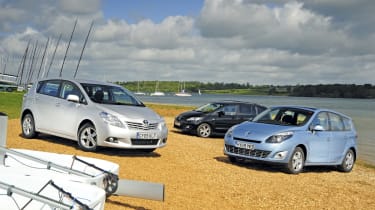 Compact MPVs have to do it all. From the weekly round of school runs and shopping trips to holidays and weekends away, they have a demanding job.  
Providing up to seven seats in a package that's little bigger than a regular hatch is difficult enough, but making this both affordable and stylish is even harder. Renault is an old hand at meeting this brief after it created the sector with 1996's original Mégane Scenic.
Since then, demand for mid-size people carriers has exploded, and every major car maker now has a contender on its price list. As a result, Renault's third-generation model faces a tougher task than ever before. To meet this challenge, it is bigger, more versatile and comes with a new 1.4-litre turbo petrol engine that promises big car performance with small car running costs.
But the Scenic isn't the only new arrival. Toyota's practical Verso people carrier adds some style to the familiar mix of versatility and reliability. It promises to give the French car a run for its money.
Before either can claim class honours, though, they have to make it past our current favourite: Mazda's excellent 5.
So, which one of our trio will win this space race?
*Many thanks to Rutland Sailing Club
Verdict
Family car buyers have never had it so good. The latest generation of compact MPVs offers unrivalled amounts of space, flexibility and value. But which of our trio will leave owners in seventh heaven?
Well, it's not the Toyota. The Verso is an improvement on its predecessor, with more cabin space, sleeker looks and a low price. It makes sense for buyers on a strict budget – but loses out here because of its numb driving dynamics and lack of character. These are not criticisms you can level against the Mazda.
For keen drivers it is the only choice, and we can't understand why other makers haven't copied its clever sliding doors. However, the cabin feels cramped compared to its younger rivals – particularly if you need to carry luggage. This sector is all about space and practicality, which costs the 5 dear.
That makes the Grand Scenic our new class champion. While we're not entirely convinced by its new look, the thoughtfully designed Renault has the biggest and most versatile cabin. A wide range of trim levels and engines also means there should be a Scenic to suit every budget.
1st: Renault Grand Scenic With a spacious and versatile interior, a punchy turbocharged petrol engine and a long list of standard kit, the latest Renault deservedly goes straight to the top of the class. The company's reputation for people carrying excellence is upheld yet again.
2nd: Mazda 5 Second place is no disgrace for the Mazda. While its cabin isn't as spacious as its rivals', it makes good use of the room available. Those sliding doors set the 5 apart in this company, and it's still great fun – it remains the only choice for keen drivers.
3rd: Toyota Verso The new Verso brings a welcome increase in space and refinement over its predecessor. But against these competitors, the Toyota simply doesn't stand out. With its bland looks, cheap interior and uninspiring dynamics, the Toyota trails the class leaders.