Vauxhall Insignia VXR Nav vs Audi S4 S Tronic
Vauxhall is aiming high with its new hot Insignia. It's the first-ever four-wheel-drive VXR model – and we rate it against the potent Audi S4 saloon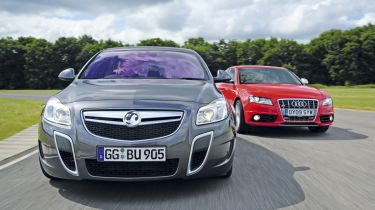 The super-saloon is back! In recent years, high-powered versions of family models have fallen out of favour, but with its new 321bhp Insignia VXR, Vauxhall hopes to revive the fortunes of fast four-doors.
Back in the Eighties, the Luton firm launched the fearsome 377bhp Lotus Carlton, which had incredible straight-line pace and wild bodywork. However, times have changed, and Vauxhall has taken a more subtle approach with its newcomer. Not only are its restrained looks a world away from the Carlton, but it should be more composed on the road, too – the Insignia is the first VXR to get four-wheel drive.
The Vauxhall is entering a small but fiercely competitive class. Audi's scorching S4 saloon is now in its fourth generation, and the latest model is the best yet. A supercharged V6 engine provides plenty of firepower, and, as with the Vauxhall, it has a hi-tech four-wheel-drive transmission.
Our car also came with the firm's twin-clutch semi-automatic gearbox. At £35,680, the Audi is £3,870 more expensive than the Insignia, but the German car benefits from strong residuals.
So, is Vauxhall ready to make the step up in the high-performance stakes?
Verdict
By using the Audi S4 as a benchmark for its Insignia VXR, Vauxhall's engineers have certainly set their sights high. And on the evidence of this showing, it's clear the Luton firm has done a great job of turning its family model into a high-performance road car.
The newcomer combines stylish looks with strong pace and an agile chassis.
And better still, it retains the standard Insignia's practicality, refinement and value for money.But by the narrowest of margins, the VXR has to concede defeat to the incredible S4.
The Audi's magnificent engine delivers blistering straight-line pace and impressive real-world performance. Although the car has the higher list price, strong residuals and the option of the superb S tronic gearbox set it apart. For family motorists who demand practicality and pace, there are few better cars than the latest S4.