Alfa 159 vs SEAT Exeo
Alfa Romeo has fitted a powerful yet efficient new diesel to its gorgeous 159. Is it a better executive car choice than SEAT's Exeo?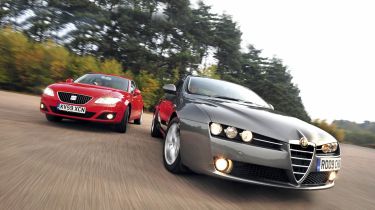 German brands dominate the compact executive car market – but if you want to stand out from the crowd, there's an obvious alternative. The Alfa Romeo 159 is one of the world's most beautiful models.
The lure of its magical badge reels in enthusiasts, while its gorgeous styling never fails to turn heads. And in a minor shake-up of the range, Alfa has introduced a pair of new engines to give the saloon even more appeal.
Although the company's new 200bhp 1750i petrol powerplant will fire the imagination, the latest 170bhp 2.0-litre JTDm diesel makes the most sense. It slots into the range between the existing 1.9 and 2.4-litre oil-burners, and is sure to be a very popular choice.
But the pretty 159 isn't the only option for buyers wanting a blend of Latin style and a proven diesel engine. The SEAT Exeo is based on the previous-generation Audi A4 – so it's built on solid foundations. Competitive prices make it even more tempting, while the VW Group's latest 2.0-litre common-rail engine is the icing on the cake.
So, if you want to sidestep the obvious German compact executive models, which of these cars is the better choice? We pitch them head-to-head to find out.
Verdict
The SEAT Exeo is a car of contrasts. There's no hiding its previous-generation Audi A4 roots – and that works for and against it. Despite attempts to liven up the styling, it looks dated inside. Yet this ancestry also means rock-solid quality and strong mechanicals.
The new common-rail diesel engine is much more modern, and combines strong performance with great economy. However hard you try, though, you can't ignore the SEAT's lack of charisma, when compared to the Alfa.
The 159 is more than just a pretty face, too – its cabin is atmospheric and sharp responses make for a fun drive.
Most importantly, the new 2.0-litre JTDm engine has the pace to match the Exeo's TDI, and is cleaner and smoother, too. The Alfa is more expensive, but better residuals and a high kit count help make it our choice.
Ranking1st: Alfa Romeo The 159 trades on its looks, yet should not be judged on appearance alone. The refined new JTDm engine makes this a car you can choose with your head and your heart. Sharp handling and stylish cabin design help to seal the victory.
2nd: SEAT Exeo There's no denying the Exeo is excellent value for money. Well built, generously equipped and fitted with VW Group's latest 2.0-litre TDI engine, it's an appealing choice. But it can't match the Alfa's style, character or fun.