SEAT Leon Cupra R vs Rivals
First there was Rafael Nadal at Wimbledon. Then the World Cup.Now can Spain top off its success in the hot hatch class with SEAT's new Leon Cupra R? We test it against Renault and Mazda rivals.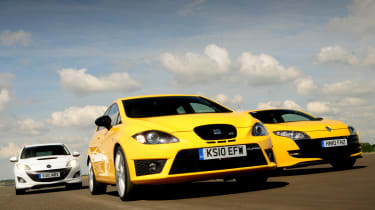 The hot hatch is well and truly back! For the past decade, these high-performance machines have been steadily regaining their reputation, after thousands of high-profile thefts and sky-rocketing insurance premiums threatened to run them off the road for good.
Now these fast, fun and practical cars are more popular than ever, with nearly every manufacturer having some sort of rapid hatchback on its books. And no firm is keener on the pocket rocket than SEAT.
The Spanish brand's brochures are littered with go-faster models, with FR and Cupra versions of its Ibiza and Leon hatches. And to celebrate SEAT's success in the World Touring Car Championship, bosses have pulled the wraps off the most powerful and focused model ever – the £25,205 Leon Cupra R.
We've lined up a pair of formidable opponents for the new Leon. The Renaultsport Mégane 250 Cup is a firm Auto Express favourite, and sets the standard for performance and driving thrills. It's also great to look at and comes with an attractive £23,160 price tag.
If it's value-for-money you're after, look no further than the Mazda 3 MPS. With a storming 256bhp engine, practical five-door layout and uprated chassis, it could have been used as a template for the SEAT. However, it costs only £22,595 and is loaded with standard kit.
So, which one of our trio has the firepower to blast to the top spot?
Verdict
Each of our contenders proves that family matters needn't get in the way of driving thrills. If you're looking for a car which combines strong performance and practicality, all three of these models fit the bill.
The MPS uses the versatile 3 hatchback as a template, so it's practical, as well as fast and very well equipped. Adding to the appeal is the £22,595 price tag. But it finishes in third place here on account of its unruly chassis and lack of visual drama.
Limited kerbside appeal isn't an issue for the distinctive Leon. Better still, it has electrifying pace, as well as an agile and engaging chassis. The Cupra R is expensive, though, at £25,205 – and we think this is difficult to ignore when the standard Cupra is just as good to drive, nearly as quick and costs £3,705 less!
That leaves the Renaultsport Mégane to take a well deserved victory. It can't match its rivals in this test for practicality or kit, but its rakish looks, gutsy engine and sensational driving dynamics more than compensate. In fact, for us, the 250 Cup is one of the most entertaining new cars around, regardless of price.