Skoda Fabia vRS vs Super 2000 rally car
We put the new Fabia vRS to the ultimate test – by rating it against Skoda's ultra-successful supermini-based rally car...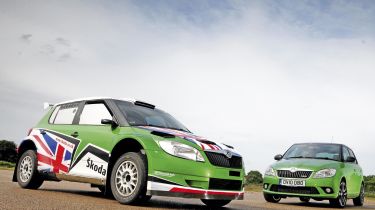 Skoda is used to the sweet smell of rally success. And it aims to put its multi-stage-winning motorsport division's experience to good use with the all-new Fabia vRS hot hatch.
The firm has built up a reputation for offering great value and brilliant customer care with its showroom cars, but its vRS models have a proven pedigree, too. The brand runs a championship-leading rally car, and has a sporting heritage that stretches back through the Soviet era to the pre-war years.
In the Sixties and Seventies, Skoda campaigned its rear-engined models, while its Felicia, original Fabia and Octavia have all triumphed in more recent times.
The new Fabia vRS aims to turn rally stage victories into showroom sales. It's packed with technology, and offers a twin-charged 1.4-litre petrol engine and dual-clutch gearbox at an affordable price. However, you'd need nearly a quarter of a million quid to buy its rally cousin. The pumped-up Fabia Super 2000 is the class of the current field, and was on hand at the launch of the roadgoing supermini. We put the two head-to-head.
Verdict
If you want a supermini that provides head-turning looks and ultimate handling thrills, the hot new Fabia isn't for you. But it still has plenty to offer. The VW Group's latest engine and gearbox goodies have given the vRS a grown-up character.
The 1.4-litre TSI unit delivers punchy performance and relatively low emissions, while the twin-clutch DSG gearbox brings some technological wizardry to the affordable hot hatch market. We think the Fabia makes sense as an everyday choice, as it combines comfort, practicality and pace. Plus, it costs less than its Polo GTI and Ibiza Cupra cousins.
For the ultimate high-performance Skoda, the amazing Super 2000 rally car takes some beating. With its IRC winning streak, it's the perfect advertisement for the firm's latest roadgoing performance model.
Skoda Fabia vRS 1.4 TSi The vRS's chassis doesn't have enough sparkle for the hot hatch class. It has a fraction too much body roll, and the steering is slightly numb, too. Still, it's evolved into a more mature car, with punchy performance, decent ride comfort and top-notch build. The Fabia is competitively priced and easy to live with day-to-day.
Skoda fabia SuPER 2000 After our exciting time behind the wheel of the Super 2000, we can see why Skoda heads the driver and manufacturer standings in the Intercontinental Rally Challenge. It lives up to the manufacturer's great motorsport heritage, and is a breathtaking piece of engineering.