Chevrolet Orlando vs Citroen Grand C4 Picasso
Has Chevrolet's ship come in? Chunky new Orlando aims to make waves in the seven-seat MPV class – and we test it against Citroen's Grand C4 Picasso...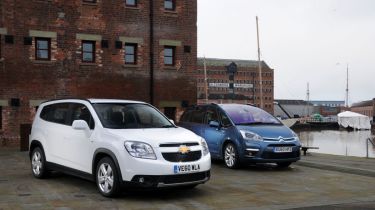 It's the first European people carrier from Chevrolet to hit our shores, and the all-new Orlando aims to show its rivals a thing or two.
Designed as a compromise between a traditional MPV and an SUV, it features a distinctive look. Inside, you get seven seats, plenty of kit and a car-like driving environment. For this test, we chose the top-spec 161bhp 2.0-litre diesel, in manual guise. It promises lively performance and decent economy, yet displays the brand's traditional trump card: superb value for money.
The £20,195 Chevrolet won't have it all its own way, though, as Citroen's revised Grand C4 Picasso is better than ever. In Exclusive trim, the Picasso has an enviable kit list, as well as a powerful diesel engine. There's evidence of the design flair the brand was once famous for on the outside, while the cabin is as versatile as the body is stylish.
Both have lots to offer, but will the Chevrolet do enough to topple the Citroen?
Verdict
If you need a family car with seven seats, the chances are you're watching the pennies. But buyers wanting a budget-conscious MPV have only one choice in this test: the new Orlando. In top-spec LTZ trim, it undercuts the Citroen by more than £3,500, and has nearly as much kit.
The Chevrolet isn't as clever inside, but offers more than enough flexibility for most motorists. Better still, there's more room in the rearmost seats, and it gains extra points with its car-like driving experience. And then Chevrolet plays its joker – a five-year warranty, which guarantees pain-free, low-cost motoring.
The Citroen is still a fine compact MPV, and looks great. However, it's not as good to drive as the Orlando, and is only marginally more user-friendly. Plus, even if you opt for a cheaper trim level, the Grand C4 Picasso can't compete with the financial clout of the Chevrolet.
1. Chevrolet Orlando LTZ Tough styling and car-like dynamics give the Orlando personality. And while the powerful engine promises to be frugal, it's fast, too. Rival models provide superior interior quality and more family friendly touches, but you can't argue with the Chevy's price. Flagship LTZ trim comes comprehensively equipped, too.
2. Citroen Grand C4 Picasso Exclusive Versatile, spacious and stylish cabin is packed with thoughtful details, while the perky 2.0-litre diesel engine provides good performance and economy. Exclusive trim features an impressive standard specification as well, but the Citroen will cost more to buy and run than its rival.