Porsche Cayman R vs 904
We see if the extreme new Porsche Cayman R can live up to the reputation of its legendary, track-inspired forebear: the 904...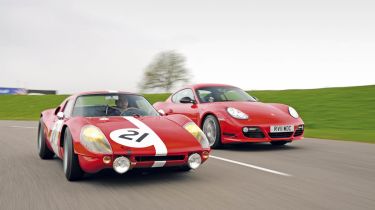 How do you improve 
on perfection? That was 
the question facing bosses at Porsche when they were looking to tweak the stunning Cayman. 
The coupé is more affordable than the 911, and less glitzy than the Boxster, and is widely regarded as the purists' choice. It's for those who value driving thrills above everything else. 
In fact, with its eye-catching looks, beautifully balanced 
mid-engined handling and 
howling flat-six powerplant, 
the two-seater is one of the 
most complete sports 
cars in the business. 
Despite this, the brand's 
team of engineers remained undaunted  – and the result is the Cayman R. Faster and lighter than any other variant in the coupé line-up, the stripped-
out model promises to deliver even more hardcore, race car-inspired driving thrills than 
the standard machine. 
However, this isn't the 
first time that Porsche has 
built a lightweight, motorsport-themed mid-engined coupé. In 1964, it unveiled the 904, which provided serious involvement and supercar performance. Unlike the Cayman R, the sleek Sixties model also had huge 
success on the race track, which helped to cement the company's reputation for producing first-class performance cars.
To celebrate the arrival of 
the Cayman R, we've pitted it against this classic. Will it be able to live up to the legend of its race-winning grandparent?
Verdict
In terms of numbers produced, the 904 is only a small part of Porsche's history. Yet it notched up countless wins on the track, and inspired many of the company's racers, such as the 917.
Today, the mid-engined, stripped-out closed coupé concept lives on in the Cayman R. With its sharpened chassis, the newcomer delivers unrivalled driving fun. Performance gains over the S are minor, but it's more agile, has better traction and delivers a stream of feedback through its perfectly weighted controls. For some, the firm ride and price premium will make the existing S the better everyday choice. But for the enthusiast, the Cayman R takes one of the most beautifully balanced driver's cars to the next level. Engaging motoring doesn't get better than this. Unless, of course, you are one of the fortunate few who can afford to own an original 904!