Audi A4 Allroad vs Subaru Outback
Crossover estates are a versatile breed, but which is best: Audi or Subaru?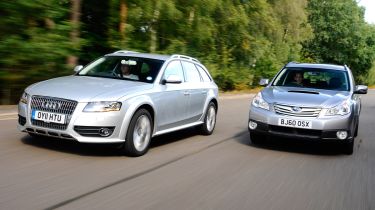 Crossovers come in all shapes and sizes, but one thing they have in common is the ability to multi-task. Whether it's family cars that look like SUVs, or off-roaders masquerading as estates, these models show no respect for class boundaries.
Subaru has mined a rich seam of multifunction models, starting with the Outback in the mid-Nineties. When it took the practical estate body and trademark four-wheel-drive system of the Legacy and added tough-looking lower-body protection and raised suspension, it hit upon a winning formula. And the arrival of a diesel in 2008 gave the Outback mainstream appeal.
The jacked-up Subaru is no longer the only option for family buyers who want an extra dose of ruggedness. If one brand knows how to exploit a niche, it's Audi – and the A4 Allroad is aimed squarely at its Japanese competitor.
As with its rival, the German machine combines practical Avant bodywork and tried-and-tested four-wheel-drive technology with a punchy diesel engine. So does the quirky appeal and cast-iron reliability of the Subaru win this crossover head-to-head, or will the prestige of the A4 Allroad get our vote?
Verdict
Rarely are two cars so evenly matched on paper, yet so different in the metal. Subaru has a proven pedigree in the hard-working estate sector, and the raw data suggests that Audi has given the Outback a close examination.
But while the financial considerations and pure figures suggest these two cars are evenly matched, the Allroad gets our vote by a margin. Its march to victory begins at first sight – the stylish bodywork sets the tone and, when you climb inside, cabin quality is in a different league to the dated Subaru.
Yes, the Outback provides more space and kit for the money, but it falls further behind on the road, where its notchy gearshift and lacklustre boxer diesel engine cost it dearly.
So, while the Audi's prestige badge demands a premium price tag, we think the A4 Allroad quattro does enough to justify the extra outlay.
A hugely desirable family 4x4. The A4 Allroad mixes decent fuel economy with a capable four-wheel-drive chassis and practical estate body. Its high-class cabin and attractive looks trump the Subaru for cosmetic appeal and ensure that motorists don't have to sacrifice quality in the quest for go-anywhere ability.
In flagship trim, the Outback is simply too pricey to compete with the luxurious Audi, but lesser models provide far greater appeal. The mid-range SE costs a more palatable £28,070, while entry-level diesels start at £26,870. If space is a prime concern, the robust Subaru is for you.