Ford Focus EcoBoost vs SEAT Leon TSI
New tiny-capacity turbo promises to be the best engine in the Ford Focus, blending efficiency with punch. Is it a wiser choice than the SEAT Leon 1.2 TSI?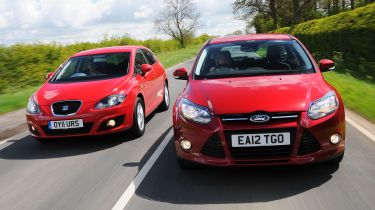 Ever-increasing fuel prices and spiralling tax bills mean that downsizing is more fashionable than ever. But has Ford gone too far with the latest addition to its EcoBoost family of engines?
On paper, the 1.0-litre three-cylinder looks suitable for nothing larger than a city car, yet Ford has put the diminutive engine into its Focus family hatchback as a replacement for the ageing 1.6-litre four-cylinder.
However, thanks to the addition of a turbocharger, direct injection and variable valve timing, the new engine delivers the same 123bhp as the one it replaces, plus has even more torque. More importantly, it emits less CO2 and uses less petrol. We tested the £17,945 Zetec.
Facing the Ford is one of our favourite downsized hatchbacks: the
SEAT Leon
1.2 TSI. Like the Focus, it promises to mix strong performance with reduced running costs, while in £17,255 Copa SE trim, it's very well equipped and great value. So which of our turbocharged family hatchback contenders will be the one to blow its rival away?
Verdict
Both our contenders prove that small really can be beautiful. By ditching their larger and less efficient engines in favour of tiny turbos, the familiar Ford and SEAT models have been transformed. But which one is our winner?
The Leon certainly leads the way for showroom appeal. It still looks great and Copa SE trim is stuffed to the gills with standard kit. Plus, its 1.2-litre engine is a keen performer, while the composed chassis makes the car surprisingly fun to drive. It's also spacious, reasonably refined and boasts the strongest residual values here. Yet it's let down by disappointing fuel economy returns and a gloomy, low-rent interior.
That's not a criticism you can level at the Ford's high-quality cabin. It feels a cut above the SEAT – even if it doesn't have the same impressive amount of standard equipment or such a spacious boot. The Focus also leads the way for driving fun, thanks to its poised, agile and grippy handling. But it's the car's new 1.0-litre engine that steals the show.
Punchy and refined, it delivers the kind of performance you'd expect from an engine twice the size. Better still, the Ford offers excellent fuel economy and lower CO2 emissions than the SEAT, which means it should cost less to run. We reckon this is the best Focus money can buy right now.
WinnerFord Focus 1.0 Zetec ★★★★
If nobody told you that the latest Focus had a 1.0-litre engine, then you'd be none the wiser. Effortless performance and impressive refinement make it feel like a much bigger engine. Only excellent economy and low CO2 emissions give it away. The Ford costs more to buy, but lower running costs help offset the extra outlay.
2nd SEAT Leon 1.2 Copa SE ★★★★
This is probably the sweet spot in the stylish SEAT Leon range. Copa SE has loads of kit at an attractive price, while the 1.2-litre TSI engine is keen. Better still, this model doesn't have the bone-jarring ride of the FR and ECOmotive trims. Yet it needs a better cabin, lower running costs and improved refinement.