Fiat Panda 100HP vs Nissan Note
Racy 100HP version of Italian baby appeals on many levels – but does it make more sense than practical Note?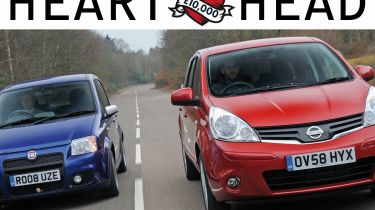 Your heart says speed but your head says space – and if you have £10,000 to spend, that leaves you with some tough choices to make. For our money, the racy Fiat Panda 100HP is about as much fun as you can have at this level, but the Nissan Note is bigger, more efficient and has just been given a mid-life refresh. So which would we choose?
The Nissan is what your head wants as it provides small family car space in a supermini-sized package. This is thanks to its tall body – which compromises its looks. The revised Note gets a fresh grille and new headlights, but the changes are minor and the practical Nissan still isn't a car you buy for its kerb appeal.
While its smaller Italian rival is just as boxy from the outside, its pumped-up looks set it apart from lesser models and will be sure to get your pulse racing. Attractive alloys, a lower ride height and sporty front bumper give the hot Fiat a much more purposeful stance. We're not so convinced by its tinted side windows and go-faster stripes, but the boy racer looks are part and parcel of the appeal.
Inside, you'll be amazed at the space on offer in both cars. While you get more in the Note, the Panda is incredibly user-friendly given its exterior dimensions. It really falls behind in terms of luggage capacity, though, with a 206-litre boot.
In contrast, the Nissan has a sliding back bench, which allows you to optimise rear legroom or load carrying ability. And even with the seats in their rearmost position it offers 280 litres of stowage. Hit the road, and the Fiat fights back. Its lively 1.4-litre engine feels faster than the figures suggest. Fiat claims it covers 0-62mph in 9.5 seconds, yet its raucous engine and firm ride add to the impression of speed. It's also comfortably quicker than the Note, which completes the sprint in 13.4 seconds.
On the move, the stiffly sprung Fiat is busy and uncomfortable in town, but makes more sense at higher speeds. The revvy engine, agile handling and tiny proportions make it an absolute riot to drive along twisty roads. It can be unruly and will spin its inside front wheel if you get on the power early out of bends, although this doesn't detract from the sense of fun. A sixth gear means decent motorway refinement, too.
While the taller Note can't hope to compete on traditional British B-roads, it's much more accomplished in the city. The cabin has a more grown-up feel, which is partly down to improved switchgear. And what about price? Well, we've cheated slightly because both cars break our theoretical £10,000 budget – but we'd be surprised if you can't haggle below our self-imposed limit in Nissan and Fiat dealerships.
 With improved equipment and a new look, you would expect prices for the Note to have increased. Instead, the firm has dropped them. A 1.4-litre Visia model with air-con can be yours for £10,295, while the go-faster Fiat is slightly more expensive at £10,395.
The Note's sliding rear seat is fitted as standard, but the Visia gets few of the luxuries fitted to the flagship Tekna we used for our pictures. It makes do with steel wheels and manual rear windows, while our test model's integrated Nissan Connect sat-nav isn't even an option. Step into the Fiat and it's fitted with climate control and Bluetooth phone connection as standard, on top of its racy styling additions. The trade-off comes at the pumps. The hot Panda returns 43.5mpg combined and emits 154g/km of CO2; the 1.4-litre Note offers 47.9mpg and 139g/km. That's enough to impact on your annual fuel bill and place the Nissan in a lower road tax bracket than the Fiat, providing a further saving.
While all this makes sense to the head, the Note's miserly kit grates at this price. If you see a Panda 100HP go past, you will get a pang of regret. Will the Fiat driver feel the same about the sensible Note?