Volvo C30 vs Skoda Superb
Sweden's prestige hatchback turns heads; Czech saloon impresses with its practicality. Something has got to give!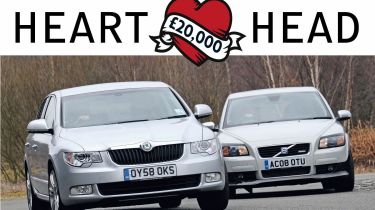 A pair of former Auto Express group test winners go head-to-head in the £20,000 category. The C30 is one of the most distinctive executive hatches around, while the Superb combines the presence of a prestige saloon with the price and practicality of a mainstream family hatch.
The stylish Volvo is a car you buy with your heart because it's designed to appeal to the senses. With its tapered rear and glass tailgate its looks aren't universally popular, but you can't deny it's distinctive. We've pictured the higher- priced D5 R-Design SE Sport, but only the non-SE version is within our budget. At £19,605 it does without the striking 18-inch alloys but retains the bodykit. As with the C30, the Superb also has an interesting rear end, but for different reasons. Its versatile boot can be opened like a traditional saloon or as a hatch.
Lifting the tailgate reveals a huge 565-litre load area – which is a far cry from the Volvo's small boot and space-limiting optional parcel shelf. With its individual rear seats and floating centre console the C30 has a striking interior, while the Superb's is attractive and well finished but utterly conventional. You do get limousine levels of rear legroom, though.
You'd expect a racy-looking hatch such as the Volvo to claw back points on the road, but the C30 disappoints. Its 2.4-litre D5 diesel is gutsy and the supple suspension gives good ride comfort, but the numb steering, gruff engine note and dull handling quickly dispel any sporty ambitions.
In contrast, the Skoda feels incredibly agile for such a big car. It is more than half-a-metre longer than its rival but weighs only 20kg more. That explains why its smaller, less powerful 2.0-litre diesel provides such strong performance. The C30 covers 0-62mph in 7.7 seconds yet the gigantic Skoda takes just 1.1 seconds longer. Its VW-derived engine is more responsive and refined, too. The Superb definitely appeals to the head. Not only is it more economical than the Volvo, but it's less polluting as well. Its CO2 emissions of 153g/km are even low enough to ensure the more expensive Skoda has a lower tax liability for company drivers!
At £19,605 the Volvo is £415 cheaper than its rival, but the Skoda counters this with stronger residuals. It's predicted to be worth £1,157 more than the C30 after three years and 30,000 miles. It just remains to be seen if the Volvo pulls hard enough on the heartstrings to justify the expense.