Heart Vs. Head Special
How do you like your cars... sexy or sensible? That's the choice facing us at four different price points in a special test shoot-out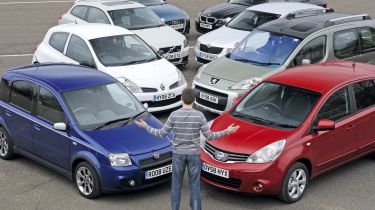 It's the battle that all car buyers will be familiar with – the one between the heart and the head. You'll know the conundrum. You might want a racy coupé with a sporty engine, but your lifestyle dictates that you go for something more sensible.
To see how far apart the two approaches can get, we've lined up four pairs of cars at different prices. On the left are the models we would buy if we let our hearts rule our heads; on the right are the models we would go for if our sensible side had the final say. The big question is, which make the best overall compromise?
We start with a budget of £10,000. At this end of the market, we aim to find out if the hot Fiat Panda 100HP is good enough to overcome the logic behind the recently revised Nissan Note supermini-MPV.
In the £15,000 category, the racy Renaultsport Clio 197 Cup goes up against the ultra-practical Peugeot Partner Teepee. And at the £20,000 mark, we have chosen the distinctive Volvo C30 as our style-led purchase. The former group test winner has a striking presence, but can it see off another Auto Express favourite in the form of the sensible Skoda Superb?
In our final pairing, the hugely desirable Audi TT Coupé goes up against the default choice for compact executive car buyers. Will the BMW 320i make enough sense to overcome the lure of its stylish two-door rival?
Verdict
£10K choice - PANDA
£15k choice - CLIO
£20k choice - SUPERB
£25k choice - TT