Audi TT vs BMW 320i
Our top price bracket serves up a choice between great design and pace and the ultimate compact exec model.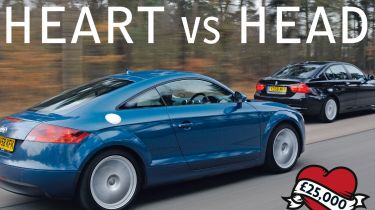 The car with all the emotive appeal in this bracket is the Audi TT. With its unique styling and prestige badge, it never fails to turn heads.
Any rival faces a tough task, but a BMW 3-Series should be high on your shortlist. Its ultra-efficient engines, crisp cabin and understated looks are key selling points – yet does a 320i SE have what it takes for the head to over-rule the heart?
For visual appeal, the Audi has this battle sewn up. It cuts a dash on any high street; choose the BMW, though, and you'll be lucky to get a second glance. It's the same inside: the Audi is full of neat details, while the 3-Series feels cold and sterile. Build quality is great in both, however, and while each firm is famous for its short standard kit count, our £25,000 budget means you needn't go without creature comforts.
In SE trim our BMW has twin-zone climate control, 17-inch alloys, dynamic stability control and economy-boosting EfficientDynamics, with stop-start technology and brake energy regeneration. We can only stretch to the entry-level Audi, but it's also well equipped. All TTs have a nine-speaker stereo, leather/Alcantara trim and electronic climate control, so you won't feel short-changed in either car.
You'd expect the BMW to win on practicality, and it is clearly the more user-friendly choice. However, folding rear seats cost £330 and the boot has a small opening. The TT is effectively a two-seater but makes the most of its load space with a big rear hatch and split-folding bench.
It's harder to separate our contenders on the road. The Audi turbo is quicker than its rival, but there's more to them than outright performance. The BMW is a class leader for good reason: its polished rear-drive dynamics and communicative steering mix with decent ride comfort and great refinement.
The faster TT also impresses. Although we've pictured the 2.0-litre TDI, our wallet stretches only to the front-wheel-drive 2.0 petrol car. It doesn't have the same poise as the BMW, but ample grip, a lower kerbweight and smaller dimensions make it feel incredibly agile. At the pumps, the Audi returns a reasonable 36.7mpg although the 3-Series uses its EfficientDynamics technology to good effect and can achieve 46.3mpg. Emissions of 146g/km add to the sensible package.
The sportier TT's output of 183g/km is enough to give business users palpitations. Use your head and the BMW is considerably cheaper – but it's hard to put a price on the emotional pull of the Audi…