Jaguar C-X75
We drove Jaguar's stunning Paris Show star – the C-X75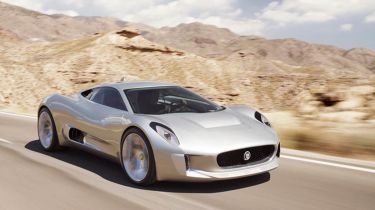 With its swooping looks, cutting-edge interior and jet-powered drivetrain, the Jaguar C-X75 looked more sci-fi film prop than roadgoing supercar when the wraps were pulled off at October's Paris Motor Show. But as reporter Ken Gibson 
discovered in an exclusive drive in Issue 1,142, it's a living, breathing, moving car – and it points to a sensational future for the brand.
Our man was blown away by the potential of the powertrain – which comprises four 195bhp electric motors, giving 780bhp and 1,600Nm of torque. Keeping these motors running when the batteries are low on charge is a pair of micro gas turbines. And while Ken reported that the set-up is some way from production-ready, it's still impressive – and should deliver on Jaguar's claims of 0-62mph in 3.4 seconds and a 205mph top speed. 
More importantly, the C-X75's amazing styling will inspire future models. And bosses have already earmarked the aircraft-inspired switchgear and hi-tech stereo for showrooms.