Performance Car of the Year 2012
Which is the best driver's car of 2012? We count them down from 10 to one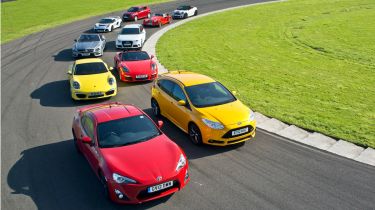 Welcome to Britain's best Performance Car of the Year contest. Over the past 12 months, a bumper crop of fast cars has gone on sale, ranging from great-value pocket rockets to mid-engined exotics. In celebration, we've gathered together 10 of the best for our annual high-octane shoot-out.
We've rated each contender for handling on the road, performance, desirability and price, before going against the clock at the challenging Anglesey circuit in Wales.
We've also been in search of cheap thrills with eight performance bargains and gone for a drive on the wild side in a pair of crazy racers for the road. Buckle up...