Range Rover Sport - best 4x4s and SUVs
It might be pricey, but the Range Rover Sport proves it's an excellent all-rounder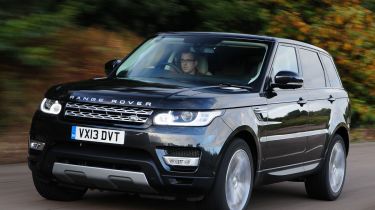 The Range Rover Sport is what you get when you cross a full-size Range Rover with the baby Evoque. It uses the same platform as its bigger brother, yet the styling borrows heavily from the smallest model in the range. The result is a full-size SUV that delivers luxury cruising and more mud-plugging ability than you'll ever need.
Power comes from a supercharged V8 petrol engine or the excellent SDV6 diesel. The latter doesn't feel underpowered compared to the V8, yet it returns far better economy, while the smooth-shifting eight-speed auto ensures you're in the right gear at the right time.
There's plenty of space for five people inside – although the company offers a seven-seat option, the back seats are rather cramped. Yet no matter how many passengers are on board, they'll be astounded by how the Sport performs off the beaten track.
The Terrain Response system sets the standard air-suspension for tarmac, gravel and snow, mud, sand or rocks, and the car's off-road ability needs to be experienced to be believed. TFT displays keep you informed of how the Range Rover is progressing, too, while an optional wade depth monitor helps you make the most of the Sport's impressive maximum of 850mm.
Go for a Dynamic model, and when you switch the Terrain Response System to this setting, the suspension is tied down so the car corners flatly and with as much grip as you'd expect from a sports car. That performance is enhanced even further in the SVR model, which also has a thumping supercharged V8 with an addictive soundtrack. Yes, the Range Rover Sport is expensive, but it's one of the best all-rounders on sale today.
Best SUVs and 4x4s 2017
2. Volvo XC90
3. Kia Sorento
5. Mercedes GLC
6. Audi Q7
7. Dacia Duster
10. Range Rover Sport