Audi Q7 - best 4x4s and SUVs
Second-generation Q7 is lighter and more efficient than before, but it still has plenty of space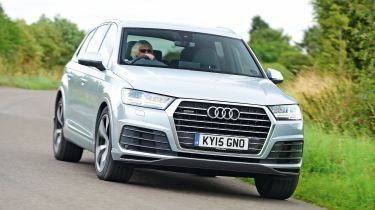 The original Audi Q7 was an SUV with a bit of an image problem, as it towered over its rivals. The brand has changed that with the Mk2, which sports a much sharper design. One of the main headlines is that the German brand has managed to trim 325kg from the kerbweight – bringing better handling and improved efficiency.
The Q7 is designed to rival the Volvo XC90, BMW X5 and Mercedes GLE, and it's based on the MLB Evo platform that will later be the basis of the next VW Touareg and Porsche Cayenne models.
Even though it's narrower and shorter than the old Q7, this generation can still hold seven people and a decent amount of luggage with ease.
There are two power variants of a 3.0-litre TDI engine available, the e-tron hybrid that promises more than 160mpg and emissions under 50g/km, and the rapid SQ7, which can sprint from 062mph in 4.9 seconds.
The Q7 is a showcase for Audi's advanced technology, and while air-suspension is now an option, at least quattro four-wheel drive is fitted across the range. SE models are comfortable, and although the 4WD system won't take the Q7 as far off road as a Range Rover, it gives reassurance in slippery conditions and is able to transfer 85 per cent of the engine's torque to the back wheels.
Best SUVs and 4x4s 2017