Honda Forza 125 - best 125cc bikes
Honda's attention to detail makes the Forza 125 a great budget bet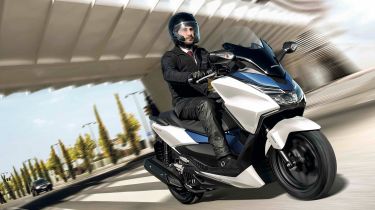 There have been a few vehicles in my life that have not been entirely aptly named.
There was the NSU Quickly Moped, which I rode slowly as a teenager and my ancient Royal Enfield Bullet, whose only resemblance to a speeding shell is that both are made of metal. So it was with a frisson of cynicism that I walked up to the 125cc Honda Forza, which means Force in Italian.
Well, that'll teach me not to dabble in cynicism, for this little beauty is a force full of charm and surprises.
There's Honda quality on display from the word go, with a plush seat giving you a roomy and comfortable riding position, a view of good mirrors and a neat dash with a dinky digital window flanked by analogue speedo and tacho. Why you need a tacho on an automatic is another matter, but it looks good, which is the main thing.
There's a soft-touch compartment below that, with a 12-volt power socket in case you need to charge your iPhone, and a clever switchable function which cuts the engine after three seconds stopped in traffic.
The Forza 125 restarts when you twist the throttle, but you can switch it off if you want to be master of your own destiny. To be honest, efficiency is hardly a major concern when consumption is already 110-123mpg depending on how hard you ride it, giving a range of up to 300 miles.
Other really useful touches are a luggage compartment under the dual seat big enough for two full face helmets, and a windscreen you can adjust with one hand. So far, so Honda.
Start up, and an eager hum from the little single fills the air, thrusting you forward with surprising perkiness when you twist the throttle, and although there's only a single disc front and rear, the ABS brakes haul a mere 162kg of machine in with unruffled aplomb.
Remarkably for a 125 with only 14 horses on the tank, it'll quite happily whizz along at 60-70mph, more than enough to make motorway commutes entirely feasible.
Most surprising of all, though, was the handling. With the engine over the back wheel in traditional scooter fashion, compared with the agile Yamaha TMax with its centralised engine and separate swingarm, I'd expected the Forza to be light and wallowy, but not a bit of it.
Thanks to 15in front and 14in rear wheels and nicely set up and adjustable suspension, cornering is delightfully light and neutral, and the bike so well balanced that you can actually come to a complete halt and sit there for several seconds before falling over.
Splendid. So it may be a little force, but it's one to be reckoned with thanks to Honda's typical attention to detail both in form and function.
Best 125cc bikes
1. KTM 125 Duke
2. Honda CB125F
3. Piaggio MP3
4. Honda Forza 125