Suzuki VanVan 125 - best 125cc bikes
The Suzuki VanVan 125 is a fashion accessory scooter with real character behind it.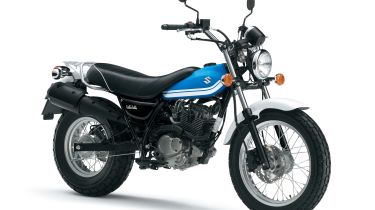 So good they named it twice, the Suzuki VanVan has been a cult bike since it was launched in 2003.
There's no obvious reason, but then what cult has? The only one I can think of is that it looks cute in a funky, purposeful and retro kind of way, is fairly indestructible, and has built up a trendy following.
The brakes and suspension are, er, fairly basic, but that means there's less to go wrong with them. Having said that, The VanVan has got a fabulous turning circle, a nice stable ride, an engine which purrs along forever as long as you stick to about 50mph or thereabouts, and the saddle is surprisingly comfortable even two-up after a long day bumbling along admiring the view.
Heavens, there's even a luggage rack at the back. And a toolkit. What more do you want? A fuel gauge or warning light would help but otherwise, the essentials are there.
Best 125cc bikes
1. KTM 125 Duke
2. Honda CB125F
3. Piaggio MP3
9. Suzuki VanVan 125