Vespa Primavera 125 - best 125cc bikes
The Vespa is a scooter icon and the latest Primavera 125 brings modern technology into the mix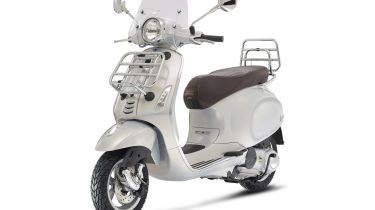 You've got to love Vespas. Other manufacturers may make scooters that are just as competent, but none of them make your heart sing as the V word on the side of an invariably stylish machine.
It's probably the same reason that Norton, Triumph, Royal Enfield, Ducati, Harley and Indian do the same funny things to the emotions of motorcycle fans in a way that Japanese bikes never will, no matter how good they are.
Budget models such as the Primavera are just as stunning as the top of the range 946, thanks to the use of steel rather than plastic, the stunning paint finish, and the exquisite curves of the bodywork set off by artful chrome details such as the headlight rim and the pillion handrail.
And even the dinky triangular speedo with its even dinkier digital info panel below is a work of art, paying homage to both vintage Vespas and modern technology.
Under the surface, though, the Vespa boffins have been busy, with significant improvements to the Primavera's predecessor, the already impressive LX.
It's maintained all the lightness and agility of the LX, making it a joy to dance through city traffic, but the suspension has been tweaked to make it the ride as smooth as custard. I mean the Marks & Spencer deluxe version, of course.
The brakes are also better than the LX, and although there are only 11 horses working their little hearts out down there, the machine is so light that it'll beat pretty much anything on four wheels away from the lights and keep on going to an indicated 70mph on the motorway.
Best 125cc bikes
1. KTM 125 Duke
2. Honda CB125F
3. Piaggio MP3
6. Vespa Primavera