Yamaha Tricity - best 125cc bikes
Another flexible three-wheeler, the Yamaha Tricity is a fine urban runabout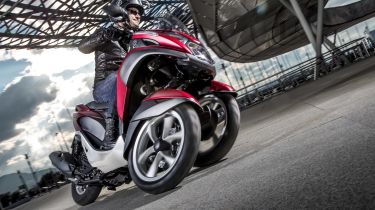 I glanced down at the speedometer of the Tricity to see it finally trembling on the 60mph mark. This is not a quick bike but the Tricity wasn't designed to set your pants on fire. It was designed because Yamaha noticed that the three-wheeled Piaggio MP3, introduced in 2006, is the most popular scooter in Europe.
To keep costs and weight down, the front suspension on the Tricity is simpler than the MP3's, bringing the front wheels too close together to let it be legally ridden on a car licence, unlike the more powerful MP3.
Although as a 125 it can be ridden by learner motorcyclists on an A1 licence, I can't help thinking that Yamaha missed a trick there.
The seating position is upright and neutral, with enough legroom even for me at 6ft 7ins. Impressive. The small digital dash has all the info you need, including a fuel gauge, although you won't need to look at that too often thanks to a 120mpg average.
The brakes are cleverly linked to work together to easily bring 152kg of machine to a smooth and stable halt, even without ABS.
In practical terms, passengers will be pleased to know that there's a comfy pillion seat, and less pleased to know that there's room for only one helmet in the storage space underneath.
Handling, with the engine down the back, is inevitably a bit light at the front compared to Yamaha's own TMax, which has a central engine and separate swingarm like a motorbike, and handles like a motorbike, funny enough.
As a result, at first, steering the Tricity feels like pushing a small but determined blancmange around a plate, but you get used to it so quickly that before long I was doing full lock turns at walking speed and having fun seeing how long I could wait before putting my feet down when I stopped. Three seconds, since you ask.
On the open road, handling is much more satisfying, swinging serenely through bends and seeing if I could make the centre stand touch down at roundabouts.
But then, it's hardly surprising it handles better at speed: it was designed by Kazuhisa Takano, who as an engineer in Yamaha's MotoGP division used to sort out bikes for a chap called Valentino Rossi.
Best 125cc bikes
1. KTM 125 Duke
2. Honda CB125F
3. Piaggio MP3
5. Yamaha Tricity