Kawasaki J125 - best 125cc bikes
Kawasaki has a reputation for fearsome sports bikes and there's a little of that character in the J125, just not too much.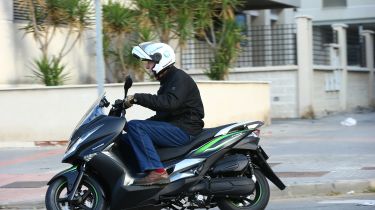 It used to be easy to identify Kawasaki riders. Men who rode machines like the scary early versions of the ZX-10. But not any more. The J125 isn't aimed at riders who live on the edge. It's aimed at riders who live on the edge of town and went to get to work faster and more cheaply than a car can manage.
It looks more like a maxi scooter than a 125, but that's hardly surprising, since it's basically the J300 Kawasaki with a smaller engine.
The good news is that that size translates into a big, deep plush and comfortable seat, with a wide and soft pillion. Best of all, the mirrors are excellent.
The slightly less good news is that since it's the size of a maxi scooter, the wet weight is 182kg. With only 13.8 horses on tap, that means acceleration is a languid affair, accompanied by a diminutive snarl like a slightly annoyed kitten.
Handling, meanwhile, is a bit floaty until you turn up the pre-load on the easily adjustable rear shocks to maximum. Ah, that was more like it: with everything feeling tighter and more precise, I was soon carving through bends on the mountain roads with a grin on my face. Lovely.
Having said that, I wouldn't recommend the Kawasaki J125 for a jaunt up a German autobahn, since the most I saw on the speedo was 71mph, and the sat nav told the real truth – 63mph.
For the average commuter who buys a J125, the good news is that they'll save a fortune, since after 62 miles of riding on the launch with the throttle pinned, the fuel gauge was still showing full.
Best 125cc bikes
1. KTM 125 Duke
2. Honda CB125F
3. Piaggio MP3
8. Kawasaki J125