KTM 125 Duke - best 125cc bikes
The KTM 125 Duke is a far cry from the brand's more potent machinery, but it's a great choice for new bikers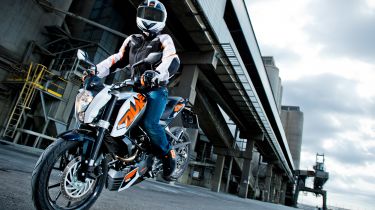 Ranking very highly on the list of things I thought I would never say would be the phrase; "as I pulled smoothly away on the KTM". But the KTM 125 Duke changes all that.
Mind you, it's not too hard to pull away smoothly on a machine with only 15 horses under the tank, especially with a clever balancer shaft to smooth the performance of the single-cylinder engine.
But this little sweetie isn't aimed at giving you a wild time. For that look at the other end of the KTM naked bike spectrum to the 1290 Superduke, the machine they call The Beast. No, this KTM 125 Duke is aimed at getting youths with the ink still dry on their licence onto the roads, and boy do we need them.
For with the average age of a UK biker now 41, we need to start getting the younger generation into black leather for the good of the industry. Well, if anything can change that, this 125 Duke will.
For a start, with its sharp edges and its in your face colour scheme, it looks splendidly cool and funky. Or whatever words the youngsters have substituted for cool and funky these days.
Either way, it just makes you want to jump on board, and when you do, for a small bike for newbies, it's got a surprisingly big feel when you're in the saddle. The seating position is upright and neutral, but canted slightly forward in-keeping with KTM's Ready to Race motto on the tank.
The mirrors, too, are surprisingly useful for a small machine, and the bijou black on grey digital dash is as dull but informative as a small accountant.
Acceleration, linked to a feather-light six-speed gearbox, is seamless but unthreatening, as you'd expect with such low power. At least it's accompanied by a delightfully rorty snarl from the exhaust.
There's only a single brake disc up front, but with a mere 138kg of bike to haul in, braking is entirely adequate, particularly as it's linked to switchable ABS, a first on a 125cc bike and a surprising treat on a machine costing just over four grand.
But the biggest treat of all is the handling. With an ultralight steel trellis frame, superb WP suspension, short wheelbase and steep fork rake, the 125 Duke's cornering is as sharp as a surgeon's scalpel.
All in all, a frisky, funky but unthreatening package for the newbie biker.
Best 125cc bikes
1. KTM 125 Duke
2. Honda CB125F
3. Piaggio MP3