Peugeot Satelis 2 125i - best 125cc bikes
Peugeot has built classic old school scooter style into its Satelis 2 125i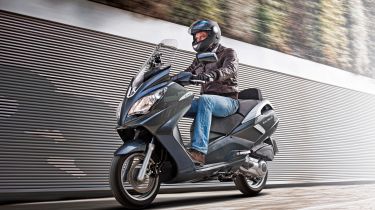 It may be a Peugeot, but the Satelis 2 125i almost as sexy looking as a Vespa, especially after a major makeover in 2013 for a slicker shape and better engine.
It's also safer, especially for commuting in the dark, with huge twin headlights that not only light up the road for about 20 miles ahead but look great, which as we all know is the main thing.
There's a stylish and informative dash, a lockable glove compartment, and it's light and easy to manoeuvre at walking page, with a tiny turning circle.
Out on the road, it'll cruise quite happily at up to 70mph, is beautifully stable at speed, and comfortable to boot, snuggled down onto that wide, plush seat behind a tall screen and with the wide mini-fairings on either side even managing to keep your legs nice and cosy. Impressive.
It's also very frugal, with the redesigned more efficient engine not only much quieter, but giving close to 80mpg.
And when you get to wherever you're going, the new bigger underseat storage space takes two full face helmets, which some scooters promise but don't deliver on, and there's even a little light in there so you can find stuff.
Best 125cc bikes
1. KTM 125 Duke
2. Honda CB125F
3. Piaggio MP3
10. Peugeot Satelis 2 125i