Aprilia RS4 125 - best 125cc bikes
An affordable scooter with race bike genes, meet the Aprilia RS4 125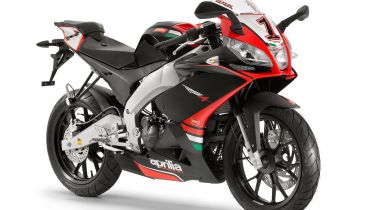 The original Aprilia RS 125 sold like hot cakes after it was launched in 1993. Suffice to say that with more than 100,000 on the roads, the bijou two-stroke wonder was a blessing to both Aprilia's accountants and newbie bikers looking for their teenage kicks.
Why? Because it looked fabulous and went like stink. Then, with the dread hand of Euro 4 emissions regulations casting a dark shadow, it became a four-stroke in 2011.
Sadly, that emasculated it, and then some: the two-stroke made a whopping 34bhp, but its replacement was limited to a piffling 15bhp limit for learners by Brussels. You can tell why the most exciting thing there is a sprout and a statue of a small boy peeing.
That's the bad news. The good news is that it still looks like its very big brother, the Aprilia RSV4 superbike, and rather weirdly is actually more roomy and comfortable to sit on, with a more neutral riding position and more legroom.
With Aprilia owned by Piaggio, the engine's been nicked from fellow Piaggio stablemate the Derbi 125, and it does its best, pulling strongly through the mid range right up to peak power at 10,500rpm, then running out of steam, giving it a disappointing top speed of 65mph.
Which is a shame, since handling is pin-sharp and braking is surefooted and stable.
However, here's some good news. Although learners are restricted to the standard bike, once you get your test an Aprilia aftermarket race kit boosts power to 25bhp.
Buy that, add the optional quickshifter for clutchless gearchanges, and you may not feel quite like former Aprilia race ace Max Biaggi, but certainly his younger brother.
Best 125cc bikes
1. KTM 125 Duke
2. Honda CB125F
3. Piaggio MP3
7. Aprilia RS4 125