Piaggio MP3 - best 125cc bikes
King of the commuter scooters, the Piaggio MP3 is a three-wheeler with real class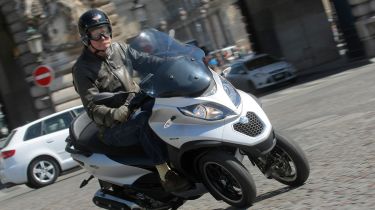 There are two types of bikers in the world: those for whom two wheels are quite enough, and those who like the theory of motorcycling, but need three wheels to engage in the practice.
That's even though on trikes, especially bigger ones, you get the worst of both worlds: the width and sluggish performance of cars, which means you can't filter or overtake easily, and the lack of protection of bikes, which means you get cold and wet.
However, there is a third way for the third wheel, and it's the latest version of Piaggio's MP3.
When the MP3 arrived in 2006, it created a sensation, thanks to two front wheels linked to revolutionary forks and suspension that allowed it to lean into corners like an ordinary bike but not fall over.
Urban sophisticates took to it like ducks to the proverbial. It was nippy and narrow enough to filter, so you could get you to work in a flash, park anywhere, spend peanuts a year on fuel thanks to a frugal 125cc engine and, best of all, you could ride it on a car licence.
As a result, The Piaggio MP3 has sold more than 150,000 units to date, making it the most popular scooter in Europe.
On this latest incarnation, the rider and passenger seats are bigger and more comfortable, the storage space underneath is now large enough to take two full face helmets, and the windscreen is bigger to keep the weather at bay.
Over the years, the MP3 engine has grown to the giddy heights of 500cc in 2013, and this version is smoother, twice as quiet and with a fly-by-wire throttle for instant response.
There are two power modes, Eco for 15% lower fuel consumption, and Whahey! Eco is sufficient for pottering around but after a while you get bored and switch to Whahey!
Braking, with a front disc increased from 240mm to 258, is entirely adequate, and handling is superb. With front wheels up from 12in to 13, a much stiffer frame, ABS and traction control, even an idiot would struggle to lose control. I speak as one.
Future plans from Piaggio HQ, meanwhile, include an electric version in which the panels of the bike double as speakers linked to your music player, making the bike one big sound system.
It will, I assume, be called the Piaggio MP3 player.
Best 125cc bikes
1. KTM 125 Duke
2. Honda CB125F
3. Piaggio MP3