What is drifting?
Drifting and powersliding require lots of skill. Our handling guide will teach you about both...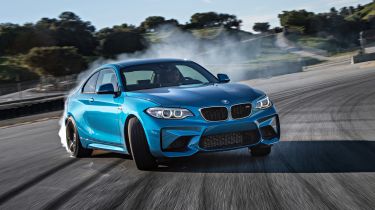 Drifting is another term for power oversteer, or a powerslide. The name drifting has come from the Japanese D1 Drift competitions and has featured in video games, movies and YouTube videos. Drifting is commonly done in powerful, rear-wheel-drive cars, and sees the back tyres lose traction while the driver applies opposite lock to control the skid and keep the car away from the edge of the road, and usually involves copious amounts of smoke coming off the rear tyres.
• Nissan GT-R 1,390bhp drift car review
While it's easy to describe, it's a difficult piece of car control to master. It requires all forms of electronic driver aids to be switched off (although some cars now come with 'Drift Mode' settings to deliver controlled sideways driving), and a level of commitment and concentration from the driver so that they are fully aware of their surroundings and what the car is doing.
How to drift or power slide
As a powerslide is achieved by breaking traction and essentially losing control of your car, we would strongly recommend only ever trying it away from the public highway at a test track or on a private road you have permission to use.
One key ingredient of drifting is to look exactly where you want to go. If you're in a corner and looking at the exit, your instincts will lead you to steer the car in that direction. You could suffer from 'target fixation' if you are distracted by your surroundings, and this might be enough for you to lose control of your car.
It's best to enter a corner at a manageable speed and in a low gear to set up a power slide. You then turn the steering wheel to a larger angle than necessary to get around the corner, then floor the throttle as you move towards the exit of the corner. This should get the rear tyres spinning and give them enough slip to move the car sideways. Once you feel the rear end moving, steer in the opposite direction, and if necessary back off the throttle enough to maintain the slide, but don't come off it completely.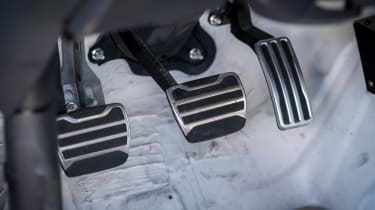 The forward momentum should see your car maintaining its position on the road, so you can just look ahead to the exit of the corner, take off the opposite lock you have added and accelerate away. It might sound easy, but you really need to get a 'feel' for the car you're driving before you will be able to powerslide consistently. But remember, this sliding will contribute to excessive wear to your rear tyres, so bear this in mind if you're trying it, and always inspect your rubber for wear and damage after you have.
How to avoid a power slide
The easiest way of avoiding a drift or power slide is to keep your car's electronic driver aids on. Wheelspin isn't desirable in the wet when there's less grip, and a car's traction control system (TCS) will cut power to the rear wheels and also possibly lightly apply the brakes to prevent the wheels from spinning. In addition, the ESC will apply braking force to the wheels to keep the car in a straight line.
If the car you're driving doesn't have TCS, then you need to use light throttle inputs to keep the rear of the car in check. If you can, try and change up to a higher gear, as the engine's slower response at low revs will make it easier to cope with the power.
What's the best car to drive that you've ever owned? Tell us about it in the comments section below...
• What is understeer?• What is oversteer?• What is drifting?• What is torque steer?