Caterham SUV and city car in development
Caterham plans Renault-based SUV and city car in bid to expand car sales in Asia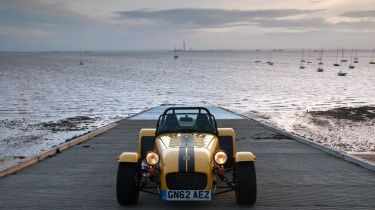 Caterham has confirmed that its ambitious bid to expand from builder of the niche Seven sportscar (pictured) into a global car company is still on track, thanks to an expansion of its joint-venture agreement with Renault.
News agency Reuters has said a meeting of the Renault-Alpine and Caterham board is expected to take place on Thursday, where the expansion of the joint venture past the current agreement to co-develop a sportscar is likely to be confirmed.
This will begin with Renault completing a feasibility study into providing Caterham with semi-finished as-yet unnamed models, which would be shipped to Asia to be completed and sold.
The idea is to expand the Caterham brand into emerging Asian markets, and won't affect the resurrected Alpine marque that's focused on sports cars predominantly for Europe.
Caterham hopes that its participation in Formula 1 and in endurance racing will help its brand grow in Asia, helped by a striking sports car first, followed by a range of more attainable new models.
When we met Caterham Cars boss Tony Fernandes last year, he told us:
"Porsche is without doubt my vision for Caterham in the longer term. [The joint venture with Renault] is the start of a line of products - city cars and crossovers come to mind - and Porsche set a great template."
But before the city car or SUV happens, Caterham will launch its version of the two-seater, rear-wheel-drive Alpine in 2016, albeit with "very different visuals".
However, it's after this that Fernandes' ambitious plans will really take hold. "Our playground is Asia, where the Porsche Cayenne and also the Panamera are really successful."