Right-hand drive Corvette confirmed
Chevrolet will build right-hand-drive versions of the Corvette Stingray for the first time, Auto Express has learned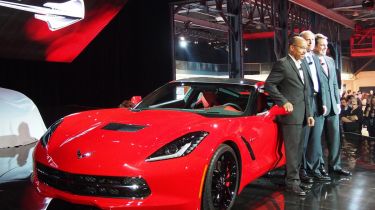 For the first time UK buyers will be able to buy a right-hand-drive version of the new Corvette Stingray, the star attraction at this week's Detroit Motor Show.
"There is no plan to build a right-hand-drive version in the short term," the Corvette's chief engineer, Tadge Juechter, told us. "In the long term it's something we definitely want - to make this a more global car - but it won't be for a couple of years."
We also asked Juechter about the possibility of a smaller-engined Corvette, possibly a V6: "It already is a smaller displacement engine, I think of it as a 3.1-litre V4 that has an extra four-cylinders when you need them," he replied, referring to the new V8's cylinder shutdown system.
"We actually looked at a V6 but it turned out to be more expensive, and a Corvette has to make all the right noises."