Chevrolet Lacetti Hatchback review (2005-2011)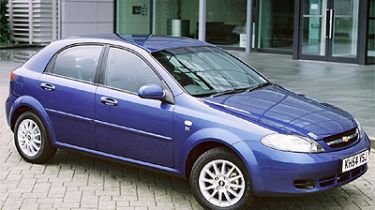 Priced to compete with superminis, yet offering dimensions not far off a Ford Focus, Chevrolet's Lacetti makes rational sense. Styling hints at the Vauxhall Astra and has some appeal - not always the case for a budget car - and assembly is solid, with substance. The interior is clean and tidy too, again with quality plastics, and it's only in some of the details and unsupportive, too-flat seats that the side is let down. Space in the rear is very commendable and equipment levels are generous. All feature twin airbags, electric windows, CD player and ABS, with all but the base car including alloys, electric mirrors plus front and side airbags. Unfortunately, the Euro-NCAP crash score is a somewhat disappointing three stars.
No diesel engines are currently offered; Chevrolet is working hard to bring one to market. Of the three petrol engines, the 1.8-litre tops the range but is, like all the engines, pretty raucous and never really offers any real grunt. Best is the mid-range 1.6-litre, which is as economical as the base 1.4-litre but usefully more powerful. The five-speed gearbox, meanwhile, is an unpleasant thing to use, with a notchy, rubbery feel. Handling is not exciting, but competent, safe and reassuring. Shame the pay-off is a ride quality that is firm and, at times, unsettled. However, put into context, such niggles are not as significant as they could be, given the savings of around £3,000 over comparable 'mainstream' family models. This, along with the very modern and attractive styling, is enough for it to be worth a look, if badges mean little to you. Just don't go too mad with the spec sheet; lesser models retain much more than costlier variants.
Engines, performance and drive
0
MPG, CO2 and Running Costs
0
Interior, design and technology
0
Practicality, comfort and boot space
0