Budget Citroens set to target Skoda
Citroen is planning to overhaul its image in a bid for survival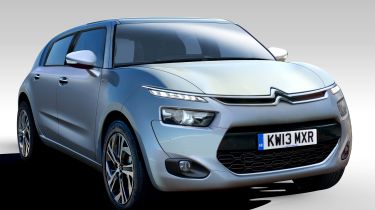 Citroen is set to overhaul its image, and turn its range of C models into top-value Skoda rivals, while its DS line-up moves upmarket to take on Audi.
The brand will preview its budget plans with a new concept at September's Frankfurt Motor Show, called E3 Essential – with E3 pronounced E cubed – and our exclusive image gives you an idea of what to expect.
Dwindling sales in Europe have hit PSA Peugeot Citroen harder than most, and this drastic move aims to realign the brands to maximise market coverage and prevent them from stealing sales from one another.
So while the next generation of small Citroens will be more value-focused to take on Skoda, Peugeot will battle mainstream brands like VW and Vauxhall. That leaves Citroen's DS brand to take the fight to premium rivals such as Audi and BMW.
The DS brand will also be used to show Citroen is capable of niche products with small production runs – such as the DS3 Cabrio Racing, which showcases groundbreaking materials like the matt 'shark skin' paintjob and will be limited to between 200 and 400 models. As you can see in our image, the five-door, Ford Focus-sized E3 takes cues from the C-Cactus concept Citroen showed in 2007, but with simpler surfacing and a striking front end inspired by the C4 Picasso MPV.
It's not just the C-Cactus' styling that will live on, though; its no-frills philosophy is at the heart of the Essential range, and the car will be built under the tagline "Pure, Simple, Smart".
Citroen has no intention of building a range of vehicles to rival bargain basement Dacia, but to keep costs low it will use as few parts as possible. So expect a minimalist dash with not many switches, and most functions controlled via a touchscreen digital interface. Large body panels without many creases or curves will also help cap costs.
While the C-Cactus used a costly and complicated diesel-electric hybrid powertrain, the E3 Essential is expected to stick with more conventional engines from the existing Citroen range – such as the 70bhp 1.4-litre HDi diesel and 82bhp 1.2 VTi petrol. 
Although there's no official word yet, prices for the production version of the E3 Essential are expected to start from around £13,000. That's £1,000 less than the current C4 and on a par with the entry-level version of the Skoda Rapid.
From now on, the latest C4 Picasso range will be the last 'premium' C model from Citroen. Looking onwards, all C-badged cars should take a value approach in an effort to emulate the sales success enjoyed by Skoda.
Overhaul vital for survival
According to Laurent Chiapello, the Editorial Director of our French sister magazine, Auto Plus: "A brand overhaul is essential, as PSA Peugeot Citroen's finances are in a critical situation.
"The group is burning 200 million Euros [£172m] each month, and sales are far from strong. The French government loaned it 7 billion Euros [£6.03bn] and joined the board, but long-term PSA is searching for an industrial and financial partner. GM has a seven per cent stake, yet doesn't seem to want to invest further. We've heard rumours of talks with China's DongFeng, but again, nothing official. Something needs to change soon, though; as it stands there's division at PSA."