Citroen DS X7 teased
Chinese-targeted production Citroen DS X7 teased, based on last year's Wild Rubis concept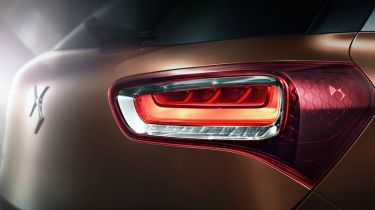 This is our first glimpse of the new Citroen DS X7, teased ahead of its first full outing at the Beijing Motor Show later this month.
The premium SUV has been developed primarily for the Chinese market, although the BMW X3 and Audi Q5 rival may find its way to UK showrooms as well.
Based on the Wild Rubis concept unveiled at last year's Shanghai Motor Show, the solitary teaser image doesn't give much away regarding how the DS X7 will look – although the bulging rear section seems to be unchanged save for the revised, more intricate taillights.
The production car's dimensions are also likely to mimic those of the concept, which should appeal to Citroen's Chinese customers: at 1.95 metres wide, 1.59 metres high, and 4.70 metres in length, the Wild Rubis was longer, wider and lower than the Audi Q5.
According to reports, three petrol engines will be available at launch, a naturally aspirated 138bhp 1.8-litre VTi generating 170Nm of torque, and two turbocharged 1.6-litre four-cylinder units, developing 162bhp and 240Nm or 200bhp with 275Nm.
The DS 7X is likely to go on sale later this year, with prices in China expected to start from 160,000 yuan (£15,400) and rising to 200,000 yuan (£19,300) for top-of-the-range models.
Click here to check out the DS 5LS R concept, which will also feature on the Citroen stand at the Beijing Motor Show.