Citroen appoints Linda Jackson as new CEO
Linda Jackson made CEO of Citroen, promising more innovative, well-equipped and comfortable cars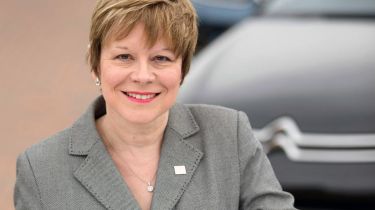 Citroen UK boss Linda Jackson has been made CEO of the Citroen brand in a major shake-up of the PSA Peugeot Citroen group by new boss Carlos Tavares.
Jackson will be responsible for Citroen, while Yves Bonnefont, formerly the group's head of strategy, will be in charge of the upmarket DS brand. Maxime Picat remains at the helm of Peugeot. All three will report directly into Tavares as part of his 'Back in the Race' restructuring plans.
Speaking exclusively to Auto Express, Jackson agreed with previous comments describing Citroen's direction as becoming 'an Ikea for cars.' "We want to be more creative, affordable and offer things that really matter to mainstream customers," she said.
"We want to be innovative in design – we've been good at that in the past and new models like the C4 Picasso have shown that again. We want our cars to have useful technology like our touch screens that are easy to use and the air bumps on the C4 Cactus.
"Citroens have to be comfortable, too, and affordable. We'll have some different solutions to help people buy their cars like pay-as-you-go, and we'll be transparent in how we sell."
Jackson starts her new role on June 1, shortly before the launch of the new Citroen C4 Cactus – a car that, according to Jackson, will play a big role in Citroen's future. "The C4 Cactus is the start of where we're going with Citroen," she said.