DS plans six-strong range of SUVs and saloons
Following the Citroen and DS separation, the luxury DS brand will introduce 6 global models by 2020 focusing on SUVs and saloons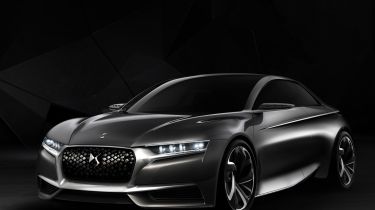 DS will have more than one SUV on sale in Britain when it launches its new global line-up. Global vice president of sales and marketing for the new go-it-alone brand, Arnaud Ribault, confirmed DS is planning a six-strong range and, in an exclusive chat with Auto Express at the Classic Car Show at London's ExCeL, he dropped the first clues as to its make-up.
Ribault described the current DS line-up – which consists of premium-line Citroens, the DS 3, DS 4 and DS 5, in Europe plus a larger China-only version of the DS 5 called the DS 5LS and a DS 6 SUV – as the first generation of DS.
But the second wave, which will be sold globally, is currently being developed and will be available worldwide by around 2020. "If you study the worldwide market for premium cars, there are two big markets – three-box sedans (saloons) and SUVs. We will develop these two categories as a priority," said Ribault. "There is a market for SUVs in Europe, but not the DS 6. And there will be more than one."
Third generation of DS models to attack premium sector
A third generation of models, which are 15-20 years away, are intended to establish DS as a major force to be reckoned with in the premium sector. Ribault described the core values of the new brand as "innovation, avant-garde design, refinement and technology".
Pressed on what innovation could be expected, Ribault said: "We will continue to develop innovations on suspension. Something new!"
DS to continue in WRC
Meanwhile, Ribault clarified how the company's cars will be branded in the World Rally Championship, where the Citroen DS3 has enjoyed great success. "It will be a DS car, but run by the Citroen Racing team, as they have the expertise and knowledge," he said.
For example, the car Sebastien Loeb will race in the Monte Carlo Rally will wear DS badges – and carry a big 60 logo – to celebrate 60 years of DS cars.
DS and Citroen in the short term
In a bid to further distance the DS brand from Citroen, from next year all DS models will have the Citroen chevron badging removed, replaced with DS' own unique emblem.
Potential buyers are currently able to purchase DS models through Citroen dealerships but a network of exclusive DS dealerships will be put in place. The French brand has plans to introduce a total of 50 DS dealerships across Europe by the end of 2015. At present only 20 exist but in China the brand separation is more apparent with around 100 DS stores open.
Do you think the DS brand can make an impact in the premium car market? Let us know in the comments section below...