Citroen Relay 2.2 HDi 130 LWB van review
The Citroen Relay is one of the most spacious vans in its class, offering impressive payloads, low running costs and lots of equipment.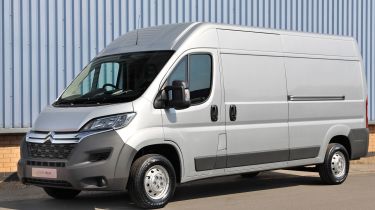 The Citroen Relay is one of the most spacious vans in its class, offering impressive payloads, low running costs and lots of equipment. For many buyers, that will be sufficient. The fact that it's not as nice to drive as the Ford Transit or Mercedes Sprinter will be of more concern for owner-drivers. But as a capacious workhorse, there's plenty to recommend the refreshed Citroen Relay.
There's no mistaking the 2015 Citroen Relay for anything else on the road – you can thank its huge chrome grille and bright, but optional, LED daytime running lights for that. You could also be forgiven for thinking that this is an all-new van.
It's not, of course, but it has been subject to wide-reaching modifications to improve its rigidity, durability – and most importantly – running costs.
Citroen claims fuel economy has been improved by up to 15 per cent. All engines in the Relay range are 2.2-litre HDi units, and in our 130 variant – the mid-way point in a range that also includes 110 and 150bhp models – there's an official 38.2mpg combined economy rating. Although we couldn't quite replicate that number, an indicated 35mpg on the trip computer was pleasingly close. Fully-laden, the figure was closer to 31mpg.
More reviews
In-depth reviews
Road tests
The Relay has service intervals of two years or 30,000 miles, whichever is sooner, and comes with a flexible warranty of two years/unlimited mileage or three years/100,000 miles.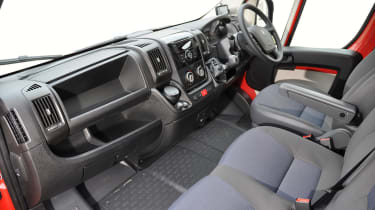 The engine delivers a decent turn of speed, although to press on causes the engine to become noisy with vibrations in the cabin. The Relay is no match in this regard for the Ford Transit or Mercedes Sprinter. Plenty of work has been done to reduce road noise, and at a steady-state cruise, the Relay is fairly quiet. Ride quality is reasonable when unladen but it feels happier when carrying a load.
The 2015 Citroen Relay features a redesigned dash. Highlights here include three spacious seats, with a fold-down desk in the middle seat back. There's the usual range of document clips and large storage bins, but just one cupholder. The steering wheel adjusts for reach and rake, and the dash-mounted gearstick is well located.
Visibility is good, thanks to split door mirrors that virtually eliminate blindspots. The optional roof-mounted reversing camera is a worthwhile, and well-priced option.
Standard equipment is very impressive. All models feature air con, a digital trip computer and Bluetooth connectivity. A DAB radio is also fitted as standard, but while it turns with the key, it needed to be switched off manually – a potential flat battery generator.
The portable Smartnav colour satnav unit, which is standard on all models, can be specified with a real-time fleet management facility. The portable unit clips into a housing to the right of the instrument cluster and can be removed from the vehicle.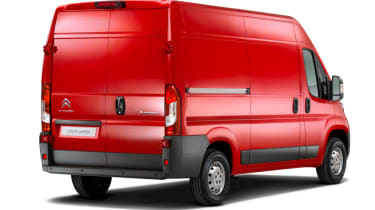 Our test van featured a number of options, some of which are worth investing in, others not. The electric and folding rear view mirrors are a must, and at £100 are good value. The same is true of that reversing camera, which is mounted high enough not to be damaged or covered in road grime. The lane departure warning system seemed rather overenthusiastic, due in no small part to the wider line that needs to be taken given the vehicle's width and length.
In this long wheelbase L3 format with a high roof, the Relay offers a 3,705mm long load deck, a 1,932mm internal load height and a total load volume of 13 cubic metres – one of the best in its class.
Extensive use of high tensile steel means the L3H2 tested has a heavyweight payload limit of 1,975kg. Making use of that is relatively straightforward with a low load bay, and a large step integrated into the rear bumper.
There are plenty of tie-down points and the twin rear doors open to 260 degrees, even if that is tricky without using both hands. A nearside sliding door is fitted as standard, although an offside door can be specified as an option.