Lotus Carlton: Buying guide and review (1990-1992)
A full buyer's guide for the Lotus Carlton (1990-1992) including specs, common problems and model history...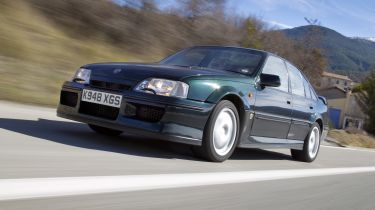 The Lotus Carlton is the kind of car that comes along once in a generation. At a time when fast four door saloons were the preserve of BMW and Mercedes, this Vauxhall derived supercar arrived on the scene, utterly demolishing the opposition.
Twin turbos made sure that in gear acceleration gave Ferrari owners sleepless nights and while its opposition was limited to 155mph, the Lotus romped on to 176mph, making it one of the fastest production cars available in the early '90s.  
Before the car's launch, there was a lot of controversy surrounding it's unrestricted top speed, and how it could in fact be a danger to the public in the right hands. Despite pressure from various tabloid newspapers to limit the Carlton, the company stuck to its guns and released it without pandering to the sceptics. 
Thanks to its the resulting 176mph top speed, the Lotus Carlton gained a bit of a reputation among hardened criminals for its excellent reputation as a car for ram raiding small shops and news agents. In one case, the thieves were described as 'uncatchable'.  
The Lotus Carlton still looks menacing in its pearlescent Imperial Green paintwork, however its proportions, even with the flared arches and wings, are far smaller than modern day four door sports saloons. This is by no means a negative aspect as its more compact dimensions and snug interior complement the muscular nature of the car and make threading through traffic a lot easier than in some of the more bloated modern machines. 
Which Lotus Carlton to buy? 
With a limited production run of 950 units, 250 of which were UK spec RHD models, the Carlton is a rare beast indeed. Despite its undeniable performance credentials, the badge and the sticker price of £48,000 certainly limited sales.
It's still very much a Carlton inside, although the interior is nicely trimmed with leather seats, and a functional well built dashboard. The 180mph speedometer gives a clue to the car's potential. Choice in this case is limited to one model in one trim level and one exterior colour.
The only real option you have is which side of the car the steering wheel is on. The majority of cars were left hand drive and some have been imported into the UK over the last few years but for longer term ownership try and look for a right hander for ease of use on UK roads.  
Seeing as there were no noteworthy changes made to these cars during the two years of production, the focus moves to looking for evidence of regular maintenance and sympathetic ownership.
These cars do not like to be chipped and if there is evidence of this then it may be best to walk away as the extra torque can cause a number of issues with the drive train.  
Lotus Carlton performance and specs
Engine

3615cc, turbocharged straight-six, 24-valve

Power
377bhp @ 5200rpm
Torque
419lb ft @ 4200rpm
Top Speed
176mph
0-60mph
5.1 seconds
Insurance group
20
Consumption
17.6 mpg
Gearbox
Six-speed manual
Dimensions and weight
Wheelbase
2730mm
Length
4687mm
Width
1772mm
Height
1445mm
Weight
1663kg
Lotus Carlton common problems 
• General: these cars have a really dedicated enthusiast following and joining the clubs and forums is a great way to get acquainted with the finer points of Lotus Carlton ownership, as well as getting hold of spares.
Partnership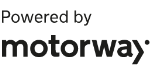 Need to sell your car?
Find your best offer from over 5,000+ dealers. It's that easy.
• Engines: engines are robust units, however timing chains can snap causing catastrophic damage to the internals. Listen out for any whines or rattles that could indicate imminent failure.
• Modifications: buying a modified or chipped car is asking for trouble as the extra strain on the engine can cause a number of serious problems such as piston failure, head gasket problems and drive shaft breakages.
• Fans: viscous fans are a known weak point and can fail. These should be checked regularly, as it could cause head gasket failure.
• Gearbox: transmissions are very tough on these cars, as the gearbox is sourced from the Corvette ZR-1, and although they can be noisy at idle, this is normal. It's worth checking for a split rubber gaiter above the transmission tunnel, as this can cause extra noise to enter the cabin.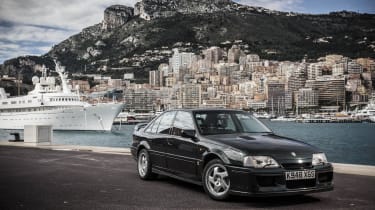 • Clutch: the one area that is very important to check is the operation of the clutch. The clutch pivot pin or the bell housing can fail causing a lot of damage. This is a known problem area and if the clutch is overly light to depress, notchy or does not return to its normal position then the pressure plate, friction plate and bell housing may require replacing. Revised bell housings were fitted to later cars however they still fail so make sure you thoroughly check this out.
• Body kit: the Lotus Carlton body kit is made of fibreglass and not to a very high standard. The bodywork modifications were carried out by Lotus, and areas where original body panels have been drilled into, such as the wheel arches and sills, may require some restoration work by now. 
• Corrosion: the Lotus versions are just as prone to body panel corrosion as any other Vauxhall Carlton. The main places to check are the door bottoms, behind the rear doors, around the sunroof, below the front and rear screens, boot floor as well as the extra wheel arch supports added by Lotus.
• Interior: when checking the interior, it's worth noting that most parts can be sourced from standard Carltons if damaged or worn, however there are a few exceptions. A UK Lotus Carlton should be fitted with a set of 180mph dashboard gauges, as well as a plaque showing the car's the build number on the glovebox lid. Although often worn, the standard leather seats are easy to recondition.
• Exhaust: although originally stainless steel from the factory, exhaust systems can corrode over time so check that the rear and centre sections are in good condition. It's also worth checking to see whether the catalytic converters are still in place.
• Suspension: suspension parts are mostly unique to the Lotus Carlton and it is worth checking under the car for any obvious signs of corrosion or damaged rubber bushes.
• More suspension: if there is a knocking from the front suspension it could indicate that the spring cup washer has corroded, in some cases the front springs themselves can also fracture due to corrosion. Knocking from the rear may mean that the trailing arm bushes have failed.
• Discs and pads: brakes are not a problem point however they are expensive to replace, so visually check the disks and pads as well as feel for any shudder indicating warped discs.
• Cooling: cooling systems are complex and need checking over, issues here can lead to damage in various other areas so it may be best to get a trusted mechanic to give it the once over.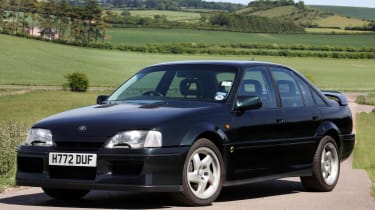 • Fans: auxilliary electric fans should only come on when the air conditioning is on, or the water temperature is above 97º Celsius so this is something that can be checked while viewing a vehicle. 
Lotus Carlton model History 
1990: Lotus Carlton starts production four years after original Omega is launched
1992: Production ends with 950 cars completed. 320 Carltons and 630 Omegas built 
Clubs and websites 
• www.autobahnstormers.org.uk - Owners club for rear-wheel drive Vauxhall and Opels• www.lotus-carlton.co.uk - Fantastic resource for Lotus Carlton owners• www.clublotus.co.uk - UK Lotus owners club 
Summary and Prices
Values of these cars have been rising for a number of years now, low mileage good condition examples are increasingly rare and these can go for as much as £50,000. High-mileage models requiring some work can still command a not inconsiderable £20,000.
Watch out for abused or cars modified by disreputable tuning companies, as you may be in for huge repair bills. Proper maintenance can be expensive, but is essential to ensure that the car's value and driving characteristics are maintained. 
The Lotus Carlton is still a car that can provide driving thrills to match many contemporary sports cars, and if you find one in good condition there are many years of '90s flavoured sporting nostalgia ahead.
Thinking of buying a future classic? Then take a look at these potential future classics...