1,000,000th Dacia car built by Morocco plant
Dacia's factory in Tangier, Morocco has just built its millionth car and is recognised as the greenest car plant in the world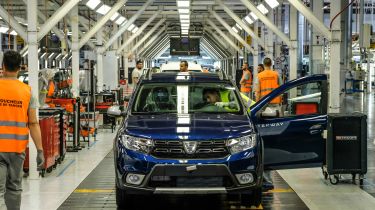 Dacia is celebrating a notable landmark with the production of the 1,000,000th car at a factory hailed as the most environmentally friendly in the automotive world.
The Azurite Blue Dacia Lodgy rolled off the line in Tangier, Morocco, just over five years after the opening of the facility in February 2012.
Since then, 474,840 Sanderos, 320,078 Dokkers and 193,181 Lodgys have been manufactured there, bound for 37 markets around the world.
The production success at the 300-hectare site has been achieved in tandem with an environmental policy that is setting a blueprint for other manufacturers.
Tangier is considered zero emissions in terms of CO2, with more than 90 per cent of its requirements fulfilled by renewable energies. This is in the main thanks to a biomass heating plant and a programme designed to minimise consumption without compromising performance, leading to savings of 100,000 tonnes of CO2 annually.
In addition, all its industrial wastewater is recycled thanks to a treatment plant, while consumption is strictly controlled, with 70 per cent less water used than a plant with comparable capacity.
Tangier is the biggest manufacturing facility south of the Mediterranean, with an annual capacity of 340,000 cars across its two lines. It is one of two Dacia plants in Morocco – the other is in Casablanca – and together they are responsible for more than half of the Dacias produced annually.
Francois Mariotte, the brand's sales and marketing director, told Auto Express: "The Tangier plant is integral to the Dacia success story. Since its construction in 2012 it has experienced an exceptional ramp up and achieved the expected quality level in record time."
Should Dacia's Tangier factory be the blueprint for other car plants around the world? Let us know your thoughts in the comments…