Renault and Dacia dealers claim 2017 Driver Power Dealer of Excellence Awards
A group of 17 Renault and Dacia dealers have been given 2017 Dealer of Excellence Awards from Driver Power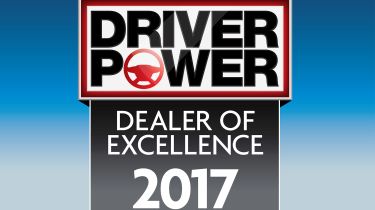 Auto Express's car customer owner satisfaction survey, Driver Power has launched a groundbreaking new dealer accreditation programme. And a selection of Renault and Dacia franchises are the first to be awarded the 2017 Dealer of Excellence Awards.
The Dealer of Excellence Programme is designed to recognise a brand's best franchised dealers across their UK network, and is a powerful seal of approval for consumers looking to purchase and service their vehicles at dealerships offering a trustworthy and satisfying experience.
A total of 31 Renault and Dacia franchises were nominated by Groupe Renault UK for the award, after recording strong performances that go far beyond the high standard in Groupe Renault UK's own in-house customer satisfaction measurements.
• Click here to take the 2017 Driver Power Survey
Commenting on the Driver Power Dealer of Excellence programme, Brian Walters, Director of Research and Insight at Driver Power, said: "This landmark accreditation programme seeks to identify, recognise and reward automotive dealerships that provide excellent customer service. It is backed by the expertise of more than a decade of conducting the annual Driver Power Survey, the UK's largest independent automotive satisfaction study."
Each of the nominated dealerships underwent an in-depth, independent customer satisfaction evaluation by Driver Power. And of the 31 nominated dealers, 17 were accredited by Driver Power. Renault Dacia has a total of xxx franchised dealerships across the UK.
Congratulating the winning dealerships, Groupe Renault UK's Mark Crockett, Director of Total Customer Experience, said: "The winning dealers can feel very proud of their team's achievement. Our commitment to improving quality and standards across the board has never been higher, and we established this unique partnership and initiative with Auto Express and Driver Power to offer customers a transparent, independent verification of the customer experience our dealer partners are delivering. Customers of the 17 winning dealers can rest assured that they will receive the very best service and their motoring requirements are in the safest of hands."
Driver Power Dealers of Excellence 2017
The 17 Renault and Dacia dealers receiving the Dealer of Excellence accreditation are:
• Bristo's, Ipswich, Renault and Dacia
• Bristol Street Motors, Gloucester, Renault and Dacia
• Bristol Street Motors, Nottingham, Renault and Dacia
• Harwoods, Ryde, Renault and Dacia
• Hendy Eastbourne, Renault and Dacia
• Holden, Norwich, Renault and Dacia
• Mackie Motors Brechin, Renault and Dacia
• Martins Basingstoke, Renault and Dacia
• Mitchells Garage, Lowestoft, Renault and Dacia
• Motorline Ashford, Renault and Dacia
• Renault Bolton
• Renault Cardiff
• Renault Manchester
• Renault Romford
• Renault Wirral
• S.M.C. Weybridge, Renault and Dacia
• Smiths of Peterborough, Renault and Dacia
Click here to take the 2017 Driver Power Survey for your chance to win £1,000 in Amazon vouchers.