'New Ford Mustang Mach-E looks to a bright future'
Steve Fowler thinks cars like the new Ford Mustang Mach-E are vital in convincing people EVs can be fun and practical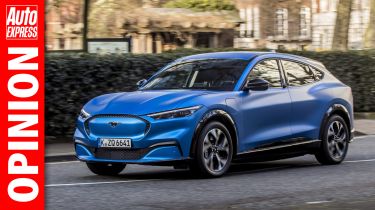 What better way to sign off for Christmas than with a drive of an all-new Ford – a car that's important not only for Britain's biggest-selling auto brand, but also for all our motoring futures as we move through this decade.
Ford is back again producing some great models these days. We're big fans of its latest Puma and Kuga SUVs, while the Fiesta remains one of our favourite superminis, and even the Focus has won a group test this year.
And it's great to report that the new Mustang Mach-E is, in the words of John McIlroy, a cracker. I was able to have a quick spin in the car, too, and really enjoyed the range (up to 379 miles) and performance (0-62mph in as little as 3.7 seconds), and the fact that it does everyday car things so well. It looks fantastic, too, while the tech inside is innovative, but easy to use.
We're well aware that the decision to ban the sale of new cars with internal-combustion engines in 2030 hasn't gone down well with everyone – and clarity is still needed over what level of hybridisation will be allowed between 2030 and 2035. But models such as the Mustang are a vital part of persuading people that driving can still be fun and practical in an electric car. And although the Mach-E starts at £40,270, EVs will become much more affordable in the years between now and 2030.
That doesn't mean we're going to stop enjoying and celebrating the internal-combustion engine now or beyond 2030; it will still be very much part of our world, and definitely part of our magazine.
It's not only big announcements that will make 2020 memorable – for good and for bad. But in what's been a challenging time for everyone, I'd like to thank our team – who haven't been in an office together since March – for their outstanding work this year. And more importantly, I'd like to thank you for your support throughout the year. We really do appreciate it, now more than ever. Have a very happy Christmas, from all of us at Auto Express.
Check out the latest on the Ford mustang Mach-E Performance Edition...