Nokian Wetproof review
Nokian Wetproof was last year's SUV tyre test winner has another good showing in 2020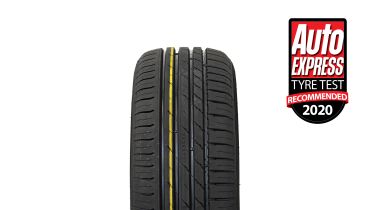 In association with

Finnish winter tyre specialist Nokian shook up the established order back in 2019, when it took victory in our SUV test with its Powerproof. This time it is the turn of the Wetproof touring tyre, which was launched to take the fight to the premium brands in 2018. 
The Wetproof couldn't quite match the win of its bigger brother, but it still managed to put some big names behind it. The heart of its success was in the wet disciplines, where it finished second only to the Michelin across the four tests. 
While it was a few places off the top, it managed to stay close to the best performers. In wet braking it was fifth, but just a metre or so off the best. It was even closer to the front in wet handling, fractionally off the quickest. The key was a front that retained grip on partial lock while accelerating through the turn. It felt like it was pulling you through corners where lesser rivals pushed wide. Traction was also good out of the tighter turns.
Dry performance was similar. A few rivals pushed it down the order, but it still stayed near the pace-setters. In the dry it felt sharp, yet this faded as you continued to push. A decent performance in rolling resistance secured a podium finish.
Blackcircles.com says…
At the time of writing, we do not currently hold stock of this tyre, meaning we are unable to provide any insight into the tyre's popularity or performance with our customers.
Figures
| | | |
| --- | --- | --- |
| Nokian Wetproof |   |   |
| Overall | 99.60% | 3rd |
| Price  | £66.50 |   |
| Wet handling  | 99.90% | 2nd |
| Wet braking  | 96.10% | 5th |
| Straight aquaplaning | 98.30% | 6th |
| Curved aquaplaning | 95.70% | 4th |
| Dry handling | 99% | =8th |
| Dry braking  | 98.10% | 8th |
| Rolling resistance  | 87% | 5th |
| Cabin noise  | 99% | 6th |