"The Ferrari Purosangue isn't going to tick all the boxes SUV buyers might want"
Editor-in-chief Steve Fowler thinks the new Ferrari Purosangue will struggle to match the practicality of other luxury SUVs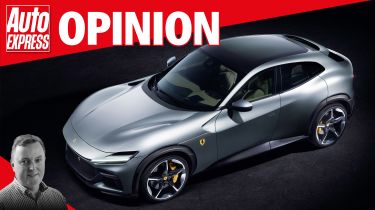 No matter how much Ferrari protests, the new Purosangue is an SUV. "It's a sports car opening a new segment," CEO Benedetto Vigna insisted when the cover was pulled off the car for the first time.
As you might expect, many Ferrari customers also own and use SUVs, with the Range Rover particularly popular. Even Ferrari vice-chairman Piero Ferrari, son of founder Enzo Ferrari, apparently has a Range Rover to tool around in. Unsurprisingly, he's been a real driving force behind the new Purosangue.
But as much as I'm sure the Purosangue will be a brilliant Ferrari – and we've seen nothing but brilliance from the most famous of Italian brands of late – I don't think the Purosangue is going to tick all the boxes its buyers will want. In short, I don't think it's going to be good enough at doing the things SUVs do so well.
People love SUVs at all ends of the market because they make life easy and project an image many like. The Purosangue scores on the latter point, but having spent some time crawling over the car, I think it's closer to a Ferrari saloon car than an SUV; it lacks the practicality that makes Ferrari owners also buy Range Rovers.
The boot, at 473 litres, is smaller than a Nissan Qashqai's. A Range Rover gives you 725 litres. The Ferrari will resolutely only seat four. Then there are rear-hinged doors – a pain to use on the Vauxhall Meriva and just as awkward on the Purosangue. And is the driving position, deliberately set low, going to give owners the same great view out they love in a Range Rover? I don't think so.
I asked design boss Flavio Manzoni if the brand had used clinics to gauge reaction to the car. His reaction was a dismissive "no". Ferrari obviously knows best.
I've no doubt Ferraristi will race to get Purosangues, as they do every other new Ferrari. But I reckon they'll hold on to their Range Rovers, as may many buyers considering a Purosangue as their very first Ferrari.
Click here for our list of the best SUVs on sale right now...