Performance Car of the Year: Ferrari 458 Italia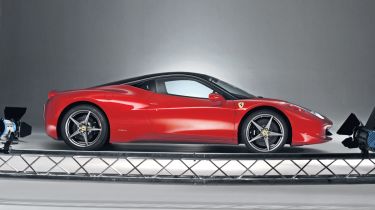 Why it won...
Twelve months on from its debut win as Performance Car of the Year, the remarkable Ferrari 458 Italia is still our number one choice. Despite the best efforts of a host of talented new rivals, including the McLaren MP4-12C, the gorgeous 458 Italia emerged from our annual high-performance shoot-out with its crown intact.
The Ferrari's blend of ferocious supercar pace, jaw-dropping looks and breathtaking handling proved too much for the competition, meaning that the 458 became only the second car ever to secure back-to-back titles. (The other was the Porsche Cayman.)
At the heart of any Italian car is its engine – and the Ferrari is no exception. Sitting just behind the driver and passenger, the 4.5-litre V8 is a genuine engineering masterpiece, delivering a knock-out punch and a howling soundtrack that's music to any car fan's ears.
Better still, the brilliant seven-speed twin clutch gearbox delivers crisp upshifts and a delicious blip of the throttle on downchanges, which encourages you to constantly pull on the steering wheel-mounted paddles just for fun.
Yet it's the 458's ability to blend this eye-popping pace with approachable and engaging handling that really impresses. The steering is scalpel sharp, allowing you to place the car with laser-like precision, while the mid-engined layout delivers perfect balance and poise in corners.
It doesn't matter how experienced or skilled you are behind the wheel, the Ferrari will flatter your ability and leave you grinning from ear to ear. And when you're not blasting down a back road or attempting a fast lap at a track day, you can simply sit back and enjoy the Ferrari's gorgeous lines.
Penned by legendary Italian styling house Pininfarina, it effortlessly blends hi-tech and aggressive aerodynamic design with classic mid-engined Ferrari styling cues. Better still, the recent arrival of the drop-top Spyder allows you to open up the roomy and luxuriously appointed cabin to the elements, as well as get you closer to that fabulous engine and its spine-tingling mechanical symphony.
Yes the Ferrari is expensive, but just a short drive confirms that this incredible machine is worth every penny.
Details
Price: £173,181Engine: 4.5-litre V8, 562bhpTransmission: Seven-speed twin-clutch0-60mph: 3.3 seconds0-100mph: 6.7 secondsTop speed: 202mph