Ferrari F50 - Best Ferraris ever
Ferrari's follow-up to the F40 didn't gain the same cult status, but is arguably the better car to drive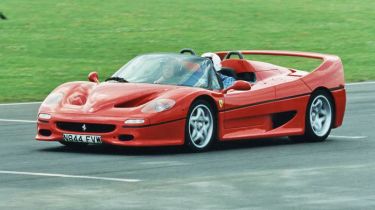 Years: 1995-1997Engine: 4.7-litre V12, 513bhpTransmission: Six-speed manual, rear-wheel driveTop speed: 202mphNumber built: 349Current value: £1.3million
With the success of the F40, Ferrari realised it was onto a nice little earner by celebrating its anniversary with a special edition, limited run supercar. But with the 50 birthday of Ferrari on the horizon, how exactly could the Italian firm better the F40? Simple: create the F50.
This time around, the limited-run supercar would feature Formula One technology, as power came from a 4.7-litre V12 that was based on the 3.5-litre V12 used in the 1990 Ferrari 641 F1 car, raced by Alain Prost and Nigel Mansell. It was also used in the successful 333SP sportscar in the mid 1990s. However, unlike the F1 car, the F50 used a conventional six-speed gearbox with Ferrari's traditional H-pattern open gate gearlever, instead of a semi-auto.
The F50's bodywork was designed by Pininfarina, but its bloated shape and combination of curves and F40-style rear wing didn't do the car any favours. That race-inspired V12 needed plenty of cooling, too, so there are lots of cut-outs in the bodywork, and the whole rear end is a large grille to let hot air out of the engine bay.
As well as the F1-sourced engine, the F50 featured F1-style pushrod suspension with in-board springs and dampers, and adaptive dampers developed from the electronics used in Formula One. The lightweight Speedline magnesium alloy wheels had bespoke rubber supplied by F1 tyre supplier Goodyear, while the car's 1,230kg dry weight meant this +500bhp machine had a claimed top speed of 202mph.
Unfortunately, the F50 isn't quite as sought after as the F40. While only 349 were built - compared to over 1,300 F40s - prices today are level pegging between the two. This is a shame, because when our sister magazine Evo brought the 288 GTO, F40, F50 and Enzo together, the F50 proved to be the best car on test, thanks to its communicative steering and natural responses that were unspoilt by electronic assistance.