Ferrari 125 S - Best Ferraris ever
The first-ever Ferrari set a template followed by many successors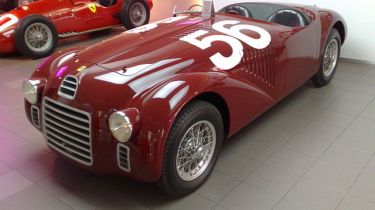 Year: 1947Engine: 1.5-litre V12, 118bhpTransmission: Five-speed manual, rear wheel driveTop speed: N/ANumber built: 2Current value: Priceless
Enzo Ferrari started out racing with Alfa Romeos before World War 2 - he even ran the works Alfa racing team under his Scuderia Ferrari banner for a brief period. But after the war, when Enzo decided to strike out on his own, he needed to start building production cars to help pay for his racing team's exploits. And the first car to be sold with a Ferrari badge on it was the 125 S.
However, it wasn't the first car that Enzo built. That accolade falls to the AAC 815, a car built by Enzo's aircraft component production company Auto Avio Costruzioni. Unlike later cars, it was a bit of a parts-bin special, designed by ex-Alfa Romeo engineers, using a Fiat-sourced straight-eight and four-speed gearbox, and with bodywork by Italian firm Touring. Only two 815s were built, and just one survives today after the other one was scrapped in the 1950s, but the 125 S is rarer still.
Like the 815, only two 125 S models were built. This time, the 125 S featured an engine that was designed by Ferrari collaborator Gioacchino Colombo and mated to a five-speed gearbox. The 1.5-litre V12 - the 125 name refers to the capacity of a single cylinder - came with a modest 118bhp, but developments of the Colombo V12 were used by Ferrari throughout the company's sports GT racing, including in the successful 250 GTO and desirable 365 GTB/4.
In 1947, the 125 S was moderately successful in regional racing, but both cars found their way back to Ferrari and were cannibalised in the production of Enzo's following models. Again, there were only two 159 S's built, while the 166 had a heady production run of 39 cars.
But one of the 125 S models was resurrected, when a 166 alleged to have one of the original 125 S chassis numbers was returned to its original state. This 166 was refitted with bodywork resembling the original 125 S, although for many enthusiasts the amount of controversy surrounding the car means it has yet to be regarded as the oldest Ferrari in existence.