Dino 246 - Best Ferraris ever
When Enzo Ferrari wanted a mid-engined model, he started with a smaller rival to the Porsche 911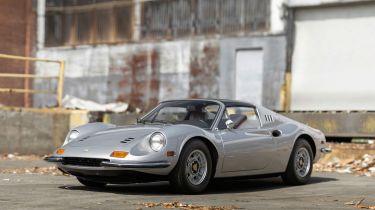 Years: 1969-1974Engine: 2.4-litre V6, 195bhpTransmission: Five-speed manual, rear-wheel driveTop speed: 148mphNumber built: 3,761Current value: £300,000
The Dino name plate arrived in 1968, and the 246 is the pinnacle of this Ferrari sub-brand. There was a time when Enzo Ferrari couldn't envisage his cars being powered by anything other than a V12 engine, and when the Scuderia needed smaller V6 and V8 engines to be competitive in racing, as well as a small sports car to compete with the Porsche 911, the separate Dino brand was born.
The Dino name plate comes from the nickname of Ferrari's son and heir Alfredo, who died when he was only 24. Dino was one of the few people to influence Enzo's decision to abandon V12 power in favour of smaller units, and he even had plans to create a racing V6. Racing at the time required a certain number of engines to be built for them to qualify, and as Ferrari couldn't meet these demands by itself, the company joined forces with Fiat to build its new V6.
The 2.0-litre engine first appeared in the front-engined 1966 Fiat Dino, but then Ferrari produced the mid-engined Dino in 1968. It was Ferrari's first mid-engined road car, as Enzo felt that the lower power output of the V6 meant it was more acceptable to produce as a mid-engined car than any of Ferrari's V12 powered cars.
The first Dino had a modest 2.0-litre capacity, but the 246 had a 2.4-litre V6. These cars carried the 206 and 246 numbers in reference to their overall engine capacity and number of cylinders, a tradition continued by the later 308, 328 and 348 models. While the Dino 206 and 246 looked similar, there were more differences under the skin than just a bigger engine. Only 152 206 GTs were built, chiefly because of the complexities of its aluminum bodywork. The later 246 had steel construction and nearly 3,800 were built. A claimed top speed of 146mph was competitive for the era, and the Dino was a strong rival for the Porsche 911.
The Dino brand was around for eight years, but the later Dino 308 GT4 was rebadged as a Ferrari in 1976, consigning the Dino brand to history.